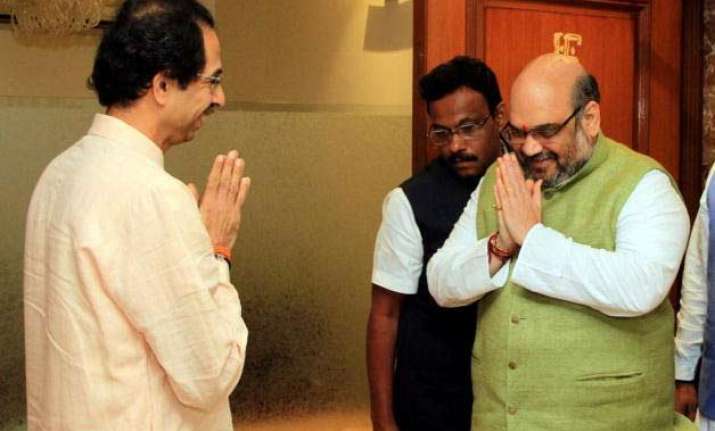 New Delhi: The BJP has decided to stick to its stand on land ordinance even after its key allies Shiv Sena, Shiromani Akali Dal (Badal) and Swabhimani Paksha decided to join hands with opposition against the land acquisition ordinance.
The government under attack inside and outside Parliament said it was ready to convene an all-party meeting to evolve a consensus on the issue.
The Shiv Sena skipped an NDA meeting in the evening and party chief Uddhav Thackeray issued a statement saying they would not support "any decision which throttles the farmers".
In his statement Thackrey said, "The Shiv Sena will not back any Central government decision that is anti-farmer. The Central government should remember that farmers had elected it with great hope".
The SAD (Badal) attended the meeting but conveyed to the BJP leadership its strong opposition to the "anti-farmer" changes in the land acquisition law.
While talking to The Indian Express, SAD (Badal) MP from Anandpur Sahib Prem Singh Chandumajra said, "Yes, we have problems with the ordinance and we said so at the meeting. We hope the government will take corrective steps."
Spilling out his party's main concerns on the ordinance, Chandumajra said, "We have 3-4 main objections, which I said at the meeting today. The farmers are unhappy with the changes and I said the same at the meeting. A way will have to be found to ensure that there is no discrimination with the poor farmers in the name of development."
While one side NDA partners are not supporting the government, BJP on Tuesday stepped up efforts to defend its Ordinance as a "pro-poor", "pro-farmer" step.
This bid was marked by tweets on the BJP's official twitter handle, defending the measure as "pro-farmer" and Prime Minister Narendra Modi telling BJP MPs to be confident that the Ordinance was "pro-development" and in national interest.
The Modi government tabled a bill to replace the controversial ordinance in the Lok Sabha amid allegations from the opposition that it is trying to give parliamentary procedure a go by. The Congress walked out.
Outside Parliament, activist Anna Hazare led a farmer's protest, alleging the land ordinance seeks to change the law to favour only industrialists. Delhi chief Minister Arvind Kejriwal joined the protest and slammed the central government.
Under pressure, the BJP has reached out to farmers. Party chief Amit Shah has set up an eight-member committee which will collect suggestions from farmers on land acquisition.
The Congress alleges the Modi government's land ordinance "fundamentally alters" a law that was passed with the BJP's approval two years ago. The ordinance seeks to scrap a social impact assessment and the need for the consent of 70 per cent land owners before agricultural land is acquired.