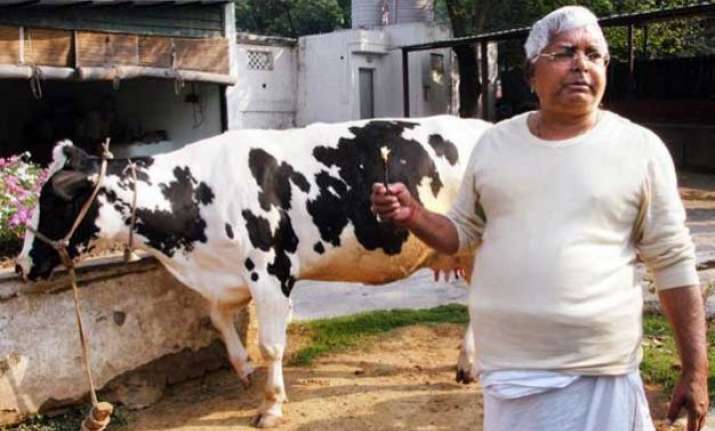 New Delhi: The flames of Dadri lynching have further raised the political temperature in Bihar which is going to polls in next few days.
After the killing of a 50-year-old man in Dadri over rumors of consuming and storing beef created a national debate on cow slaughter in India, Lalu Prasad missed no time in blaming BJP for flaring up communal passions by playing politics over beef.
In his eagerness to score political points over BJP and consolidate the crucial Muslim votes in the state, Lalu Prasad remarked that 'beef eating' should not be made an issue as even Hindus eat beef, especially those who are living abroad.
When Lalu made this statement, he did not factor in its possible fall out in upcoming Assembly elections.
In these elections, Lalu Prasad is once again relying heavily on his time-tested Muslim-Yadav combination and he is leaving no stone unturned in further consolidating the votes of these two communities which helped his party rule Bihar for 15 long years.  
His 'beef' remark was aimed to show his solidarity with Muslims of the state but it annoyed his own caste men, the Yadavas.
For Yadavas, cow is not only sacred but a key source of their milk-business as well. They are said to feel offended by his remarks.
Yadavas form 14 percent of Bihar electorate and along with 17 percent Muslims, they form the backbone of Lalu Prasad's support base.
Lalu's statement came as a shocker for Yadav community and influential leaders of the community are said to have communicated their displeasure over his statement.  Lalu has been told that the community has not taken the statement lightly and that it could be reflected in the voting pattern on the polling day.
A worried Lalu had to eat his words and he issued a clarification saying he doesn't support beef eating as no civilized person eats meat.
But the damage was already done. BJP lost no chance in capitalizing on the faux pas committed by Lalu and Sushil Kumar Modi went to the extent of saying that the upcoming Assembly elections will be a direct contest between those who eat beef and those who support protection of the cow.  
Even Swami Ramdev, who is also a Yadav, reacted sharply to his statement and said that such statements can't be expected from someone who claims to be the descendent of Lord Krishna.
Yadav leaders of BJP-led alliance made things further difficult for Lalu. BJP leaders Ram Kripal Yadav, Nand Kishore Yadav and Hukumdev Narayan Yadav asserted that Lalu has insulted Yadavas as they are protectors of cow and can't even think of eating cow meat.  
Even the Congress, a part of the grand-alliance, seems to have distanced the party from Lalu's remarks by saying that the matter should not be politicized.
Obviously, the grand-old party  which is in the process of recalibrating its minority policy after the rout of the party in 2014 Lok Sabha elections, does not want to be seen as supporting Lalu's statement that has not gone down well with a significant chunk of the majority community.
If the electorate gets polarized on these lines then things may become tough for the grand-alliance in these elections.  The BJP has always accused Lalu of appeasing Muslims and his beef remark may prove costly for the alliance that he has stitched with so much of effort and compromises.