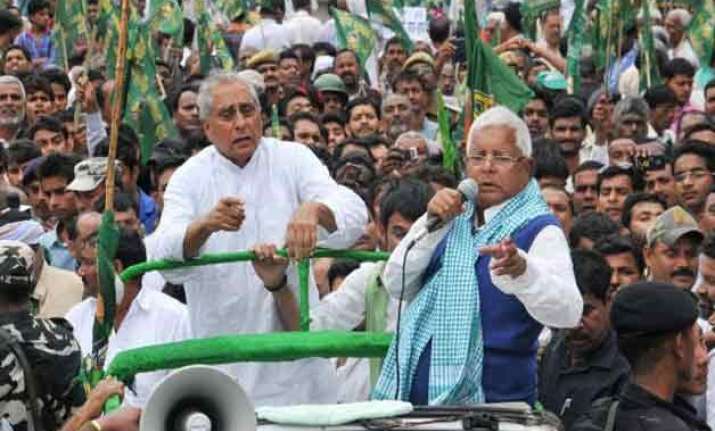 Patna: Charging Prime Minister Narendra Modi of reneging on his election promises and trying to bring a "black law" for land acquisition, RJD President Lalu Prasad today led a protest march to Raj Bhavan.
Prasad averred that the march "was just a beginning", and "will lead to a full-fledged agitation" across Bihar and the country overthrowing BJP from power.
"Modi roamed across the country during the Lok Sabha poll campaign telling that 26.5 lakh crore rupees black money were stashed in foreign countries. He promised the people that he will bring it back and deposit Rs 15.5 lakh in every Indian's bank account within one month of his coming to power," Prasad said.
"The BJP government at the Centre is going to complete a year and people who voted for him are still waiting that the promised money will come to their bank accounts, but there is no sign of it. Modi has cheated them by making false promises," he added.
The RJD leader said Modi and other BJP leaders were now saying that they have no idea of how much money is stashed abroad. "They are now telling that the promises on black money were a jumla" (sort of figurative speech).
Prasad pointed out that, similary, the BJP promised the youth that 2 crore of them will be given employment within a year, but nothing of that sort happened.
"The youths are now wandering here and there in search of jobs. They are feeling cheated. To top it, the central government has now placed an embargo on all recruitments," he added.
Hitting out at the Land Acquisition Bill brought up by the Centre, which has aroused much controversy across the country, Prasad said, "This is a black law being forced on the country by the BJP government. It will benefit only capitalists, corporates and foreign countries."
"The UPA government led by former Prime Minister Manmohan Singh had brought an ideal law for land acquisition.
It had incorporated welfare measures for 79 per cent population of our country which depends on agriculture for a living. But the Modi government is now trying to undo it," the RJD Chief added.
"This march is just a beginning. It will lead to a full-fledged agitation and fight. It will continue till we check communal and divisive forces from coming to power in Bihar in the assembly elections later this year, and dislodge them from the Centre," Prasad said.  Since the issue concerns the welfare of the country, all political parties will be a part of the agitation. We all do it together, he added.
The RJD chief said that the Modi government at the Centre has become arrogant and dictatorial in its approach instead of being pro-people and pro-poor.  "The Modi government has become arrogant due to the majority it got in the Lok Sabha polls and has started behaving like a dictator. We will take them to the public, which will decide its fate," he said.
Threatening that a "Mahabharat" will take place in the country due to the Land Acquisition Bill, Prasad also asked people not to allow BJP MPs to come to their constituencies.
The march, which had started from JP roundabout in the state capital, was stopped at R-Block, a place far away from the Raj Bhavan.
Prasad, who stood on an open-top jeep amid the marching party workers, was accompanied by son Tej Pratap Yadav, senior RJD leader and state party President Ram Chandra Purve, Vice-president Raghuvansh Prasad Singh, several MPs and MLAs. He chose to address the people there itself.
Later, Prasad led a delegation of senior RJD leaders to Raj Bhavan and handed over a memorandum to the officials there as Governor Keshri Nath Tripathi was not in town.
The memorandum addressed to the Governor demanded recalling the Land Acquisition Bill, providing employment to the youth, and referred to BJP not keeping its promise of bringing back black money.