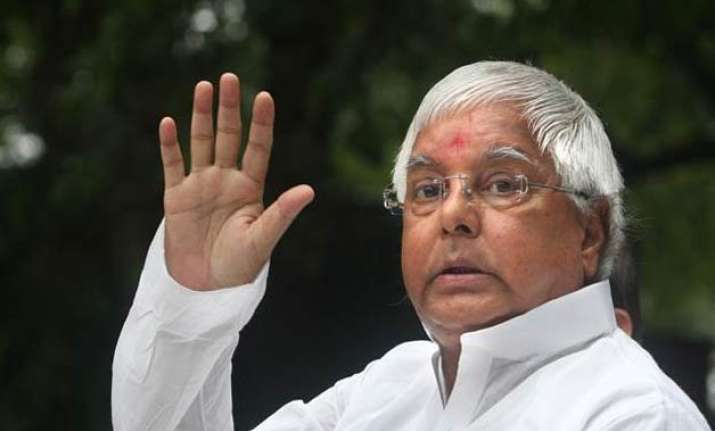 Patna: A day before the 'Janata Parivar' constituents go into a yet another huddle to remove irritants in the path of their merger, RJD chief Lalu Prasad today caused disquiet in JD(U) with remarks that former Bihar CM Jitan Ram Manjhi be part of the "broader unity" against BJP.  
Manjhi, a detractor of Kumar, has floated Hindustani Awam Party after being ousted as chief minister and is said to be veering towards the BJP.
"We are for broader unity of parties against BJP in which everybody, including Manjhi, shall come forward," Lalu told reporters here before leaving for Delhi to attend a meeting of Janata Parivar constituents tomorrow.  
"Be it merger or alliance, there is a need for broader unity of parties to fight together against BJP...Manjhi and others shall come forward for this," the RJD president said.  
Kumar, who had handpicked Manjhi as his successor after he decided to step down following JD(U)'s humiliating defeat in last year's Lok Sabha elections, chose not to speak to the media over Lalu's suggestion.
However, Lalu's invitation to Manjhi to be a part of the efforts for a "broader unity" against BJP did not go down well with JD(U), which is keen on formalising the merger ahead of the state Assembly poll due later this year.  State JD(U) president Basistha Narayan Singh said there was "no point" in bringing Manjhi into the picture due to his reported proximity to BJP.
"Manjhi is not in the to do list of Janata Party unity process. Nitish Kumar had chosen him for the chair of chief minister, but he turned out to be a puppet in the hands of BJP," state JD(U) spokesman Neeraj Kumar said, reacting to Lalu's invitation to Manjhi.
Brishen Patel, a former minister and close aide of Manjhi, however, thanked Lalu for the invitation but made it clear that his party will not be a part of any political combination which has Nitish Kumar.
"But, one thing is crystal clear that Manjhi and his newly floated Hindustani Awam Party (HAM) would not be part of any combination of which Nitish Kumar is a part," said Patel who had been a minister in the governments led by Lalu Prasad, Rabri Devi, Nitish Kumar and Manjhi.
Though six offshoots of 'Janata Parivar'—Samajwadi Party, JD(U), JD(S), RJD, INLD and Samajwadi Janata Party had on April 15 announced their merger, confusion continues to prevail over whether Bihar-centric parties of Kumar and Lalu will go to the hustings together as one entity or alliance partners.
The confusion was compounded after Samajwadi Party general secretary Ram Gopal Yadav recently said there was "no possibility" of the merger happening before the Assembly polls.
"The merger is not possible before the Bihar elections due to technicalities. If we merge in a hurry, it will be like signing the death warrant of our party," he had said, in comments that were seen as reflecting the unease within the SP over the merger.
Many in SP believe that it stands to gain nothing from the exercise that will only consolidate the bases of the two Bihar outfits—JD(U) and RJD—to take on the BJP and its allies in the election which is likely in September-October this year.  
Nitish Kumar had been insisting there was no technical hitch over issues like common symbol, flag etc and had recently suggested convening a meeting to iron out the differences.
Citing "technical" hurdles, Lalu had also hinted at the two parties going to polls not as a merged entity but alliance partners.
"We are a strong votary of merger of Janata Parivar...  some serious technical issues have cropped up which we are trying to sort out... but if this do not happen, we are prepared to fight election together," Prasad had said.  
The two parties are also squabbling over the number of seats each should contest in the Assembly polls.  
Former Union Minister and a Lalu confidante Raghuvansh Prasad Singh had recently demanded 145 of state's 243 seats for his party, inviting a sharp retort from Kumar, who said: "Why only 145? All 243 seats are available."