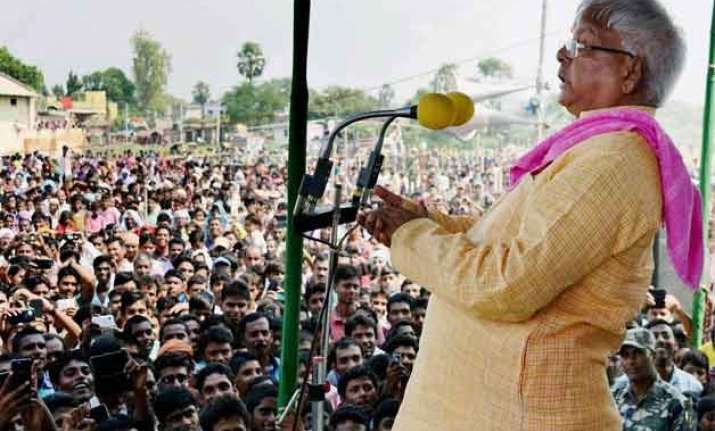 Patna: RJD President Lalu Prasad today hit back at Prime Minister Narendra Modi for his "no shame" comment against grand secular alliance leaders in the wake of a sting video of a JD-U minister allegedly accepting bribe and asked would he(PM) resign if BJP failed to win Bihar polls.
"Person who did not uphold 'Lok lazza' (high moral values in public life) aur 'Lokhit' (good of the masses) in front of a tall personality like Atal Bihari Vajpayee, is giving lecture on shame," Prasad said in his tweet message.
 
The PM during his poll rally at Jehanabad and Bhabua during the day referred to the sting video of senior minister Awdesh Kushwaha and said grand secular alliance leaders had "no shame" in public life.
In another tweet, the RJD chief said "Modi is the face of BJP in Bihar, campaigning with his entire ministry and machinery for the last three months. Will he resign as PM after the defeat?"
He also harped on the issue of reservation in the wake of the comment by RSS chief Mohan Bhagwat and asked "Will BJP and RSS burn books of Guru Golwalkar which are against reservation?"
Prasad said he did not believe statements made in favour of reservation by BJP leaders in the wake of Bhagwat's remark on the need to review reservation and dared the saffron party to implement reservation in proportion to population and also extend it in the private sector run by its "capitalist friends".