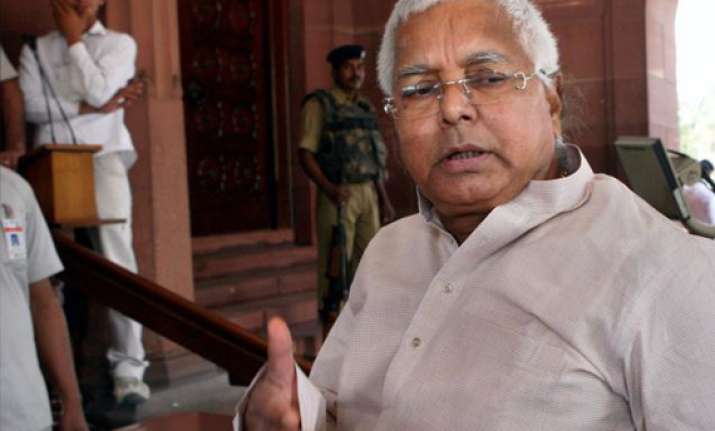 Patna, Jun 5: RJD supremo Lalu Prasad today accused the Nitish Kumar government of "avoiding" recommendations to the Centre for a CBI probe into the killing of Ranvir Sena Supremo Brahmeshwar Singh Mukhiya on June 1 in Bhojpur district.
Talking to reporters, Prasad alleged that the NDA government was avoiding handing over to the CBI an inquiry into the murder of the Sena Supremo.  He asked Bihar Chief Minister Nitish Kumar to break his silence over the issue and declare the stand of the state government.
Yadav said the investigation by the Bihar police could not be relied upon.
The RJD leader said only an independent probe by CBI would bring the culprits to justice and the state government should order a CBI probe without any delay.  
He accused the ruling JD(U) leader of trying to deflect people's attention from the facts involving the issue.  
He alleged that the rift between the BJP and JD(U) over the issue of a CBI probe had surfaced and in the given political situation, the alliance in Bihar might fall apart.  
He also castigated the government for not arresting Gopalganj MLA Pappu Pandey in connection with the killing of a liquor trader recently.
Coming out in strong defence of CPI-ML(Liberation) being charged for masterminding the killing because of the old war of attrition between the two outfits, Prasad said people should know the fact that CPI(ML) was now an overground organisation and had joined the democratic mainstream.  
Reacting to Prasad's demand, Bihar deputy chief minister Sushil Kumar Modi today said the government was open to the suggestions for a CBI probe provided the relatives of the slain Sena chief submits a request to chief minister seeking inquiry by the investigating agency.  
It is for the chief minimster to take a call, Modi said.
Indubhushan Singh son of the slain Ranvir Sena chief had yesterday demanded a CBI probe into the killing of his father.