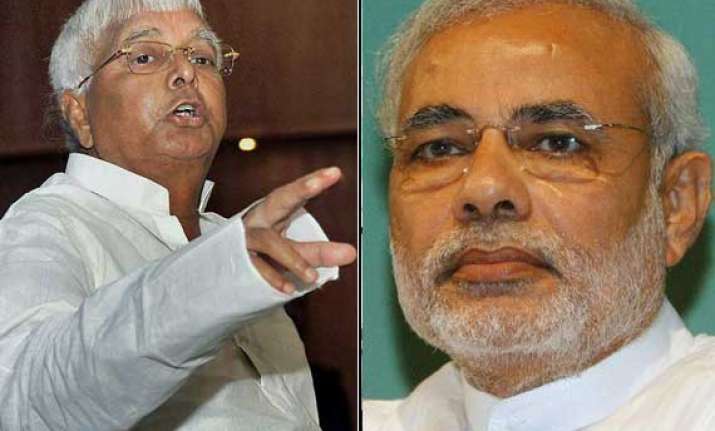 Motihari (Bihar): Terming Modi as a 'chela' (disciple) of BJP veteran Lal Krishna Advani, RJD President Lalu Prasad today vowed to stop him like he had stopped Advani during his rath yatra in 1990.
"Narendra Modi is a 'chela' of Advani. He has learnt everything from his 'guru' (teacher). But he has not learnt that I will stop him, just like I stopped his guru in Bihar," Prasad said while addressing a rally here to solicit votes for RJD candidate Binod Kumar Srivastava on the last day of campaigning.
"Uss samay guru ki hawa nikal gayi thi, iss baar chele ki hawa nikal denge (That time the balloon of the teacher had been punctured. It is the turn of the disciple this time)," he said.
Prasad, who was then the Bihar Chief Minister had stopped the controversial Rath Yatra at Samastipur in 1990 and Advani was arrested.
Lalu asserted that there is a '1977-type' agitation going on in Bihar to stop Narendra Modi and people have decided to vote for UPA.
"There is a 1977 type movement against Modi to stop him because people know that he and his party work to divide the country, create dissensions between brothers and fan the fire of communalism," he said.
Prasad took potshots at the BJP's Prime Ministerial candidate's comments about governance and said in Bhojpuri that Delhi was still far away from him but he was 'already licking his lips in anticipation.'
He asked the people to vote in favour of RJD and Congress candidates in Bihar and assured them that if UPA comes to power he would 'make Bihar shine' just like he made 'Indian Railway shine across the world'.  
Prasad also held election rallies at Gopalganj and Siwan during the day.