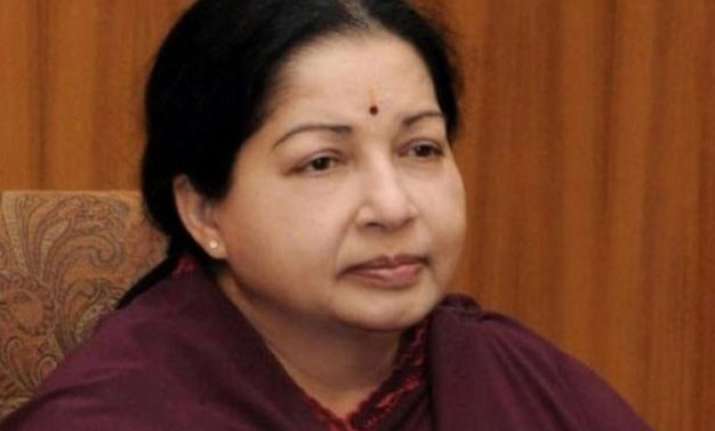 Bengaluru : Jayalalithaa was today acquitted by the Karnataka High Court in the disproportionate assets case that came as a huge relief to the AIADMK chief as it will enable her to stage a political comeback and assume Chief Minister's post once again. It took just 10 seconds, for the judge today to declare her not guilty.
The Karnataka High Court judgement came on an appeal against the judgement of the Special Court Judge John Michael D'Cunha who had on September 27 last year held the AIADMK supremo and three others guilty of corruption and awarded four years jail term, due to which she attracted disqualification as an MLA. The judge had also slapped a fine of Rs 100 crore on her and Rs 10 crore each on three other convicts.
After her conviction, Jayalalithaa had moved the Karnataka High Court challenging her conviction and sought bail. The High Court had denied her bail following which Jayalalithaa moved the Supreme Court seeking bail. After 21 days in prison, Jayalalithaa was released on October 18 after SC granted her bail. The Supreme Court had on December 18 last year extended Jayalalithaa's bail by four months.
The long-drawn legal battle that spans close to two decades has witnessed major ups and downs. The then Janta party chief and present BJP leader Subramanian Swamy started it all when he filed a case against Jayalalithaa accusing Tamil Nadu CM of amassing wealth disproprtionate to her income during her tenure from 1991 to 1996.  
Such is the clout enjoyed by Jayalalitha in Tamil Nadu that for a fair trial, the high profile case was shifted to Karnataka after the 2003 order of apex court.  
Here goes the timeline  of events in the disproportionate assets case against Jayalalithaa that witnessed legal and political twists and turns in the last 19 years after the DMK government decided to form a Special Court to  hear the case.
1996: Subramanian Swamy, then Janata Party chief, files a case against Jayalalithaa alleging that during her tenure as Chief Minister from 1991 to 1996, she amassed properties worth Rs 66.65 crore disproportionate to her known sources of income.
Dec 7, 1996: Jayalalithaa arrested. Many allegations follow, including accumulation of disproportionate assets.
1997: Prosecution launched in Additional Sessions Court in Chennai against Jayalalithaa and three others for having assets "disproportionate" to their known income.
June 4, 1997: Charge-sheeted for offences under Sections 120-B IPC, 13(2) read with 13(1)(e) of the Prevention of Corruption Act, 1988.
October 1, 1997: Madras High Court dismisses three petitions by Jayalalithaa including one challenging sanction granted by then Governor M Fathima Beevi for prosecuting her in the wealth case. Trial progresses. By August 2000, 250 prosecution witnesses examined and only 10 more remained.
In the 2001 May Assembly elections, AIADMK secures absolute majority and Jayalalithaa becomes Chief Minister. Her appointment is challenged due to her conviction in October, 2000 in the TANSI (Tamil Nadu Small Industries Corporation) case. SC nullifies the appointment.
September 21, 2001: Jayalalithaa ceases to be Chief Minister. After her conviction is set aside, Jayalalithaa is elected to the Assembly in a bypoll from Andipatti constituency on Feb 21, 2002, and again sworn in as Chief Minister. Three public prosecutors resign as also senior counsel. Several prosecution witnesses resile from their earlier depositions after AIADMK returned to power.
2003: DMK general secretary K Anbazhagan approaches Supreme Court for transferring the trial to Karnataka on the ground that a fair trial was not possible in Tamil Nadu with Jayalalithaa as Chief Minister.
November 18, 2003: Supreme Court transfers the case to Bengaluru.
February 19,2005: Karnataka Government appoints BV Acharya, a former Advocate General, as Special Public Prosecutor to conduct the prosecution.
October/November 2011: Jayalalithaa deposes in the Special Court and answers 1,339 questions.
August 12, 2012: Acharya expresses his inability to continue as SPP. Karnataka Government accepts his resignation in January, 2013 and discharges him from the case.
February 2,2013: Karnataka Government appoints G Bhavani Singh as SPP.
August 26, 2013: Karnataka Government issues a notification withdrawing the appointment of Bhavani Singh as SPP without assigning any reason and without consulting the Chief Justice of Karnataka High Court.
September 30,2013: Supreme Court quashes the notification withdrawing appointment of Bhavani Singh as SPP.
December 12,2013: Special Court allows a plea by DMK General Secretary K Anbazhagan and directs physical production of valuables and other assets seized from Jayalalithaa in 1997 and deposited in an RBI treasury in Chennai.
February 28, 2014: Special Court dismisses plea by SPP seeking a direction to produce before it the seized silver articles belonging to her. Judge says SPP had filed it only with the purpose of delaying the proceedings.
March 14/15, 2014: Special court imposes a cost of one-day salary on SPP Bhavani Singh for not resuming the final arguments citing ill-health.
March 18,2014: Singh moves Karnataka High Court challenging the special court order imposing cost.
March 21, 2014: HC rejects his petition saying the order of the special court imposing cost was right.
August 28, 2014: Special court reserves judgement for September 20 and directs all the four accused, including Jayalalithaa, to appear before it on that date.
September 16, 2014: Special Court defers by a week to September 27 pronouncement of its verdict.
September 27, 2014: Special Court convicts Jayalalithaa and three others including aide Sasikala. Awards four years' prison term for Jayalalithaa, slaps Rs 100 crore fine.
September 29, 2014: Jayalalithaa moves Karnataka High Court challenging conviction, seeks bail.
October 7, 2014 : High Court denies bail, citing 'no grounds,' to do so.
October 9, 2014: Jayalalithaa moves Supreme Court seeking bail.
October 17, 2014: SC grants bail to Jayalalithaa.
October  18, 2014: After 21 days in prison, Jayalalithaa released from prison on bail. SC says it will ask Karnataka High Court to complete hearing on appeal in three months' time.
December 18, 2014: SC extends Jayalalithaa's bail by four months. A bench headed by CJI HL Dattu orders that her appeal challenging conviction in Karnataka High Court be conducted on day-to-day basis by a Special Bench.
February 26, 2015: DMK General Secretary K Anbazhagan moves Supreme Court seeking stay of case against Jayalalithaa questioning impartiality of SPP Bhawani Singh.
March  9, 2015: SC issues notices to Jayalalithaa and others on plea by Anbazhagan seeking removal of prosecutor.
March 11, 2015: Karnataka HC reserves order on appeal by Jayalalithaa and three others including confidante Sasikala, in disproportionate assets (DA) case.
April 1, 2015: Jaya defends Singh's continuance.
April 15, 2015: SC gives split verdict on plea seeking removal of Bhawani Singh in Jayalalithaa's DA case before Karnataka High Court, referred to larger bench.
April 27, 2015: SC rejects Bhawani Singh's appointment as "bad in law", says case does not warrant de novo (fresh) hearing of appeals. Allows Anbazhagan and Karnataka to file written submissions in High Court.
April 27, 2015: Anbazhagan files written submission with Karnataka High Court seeking confirming Jayalalithaa's sentence.
April 28, 2015: BV Acharya appointed new SPP, files written submission before Karnataka High Court praying for dismissal of Jayalalithaa's appeal.
May 8, 2015: Karnataka High Court notification says Special Vacation Bench of Justice CR Kumaraswamy will pronounce verdict on Jayalalithaa's appeal on May 11, 2015.
May 11, 2015: Karnataka High Court acquits Jayalalithaa and three others.