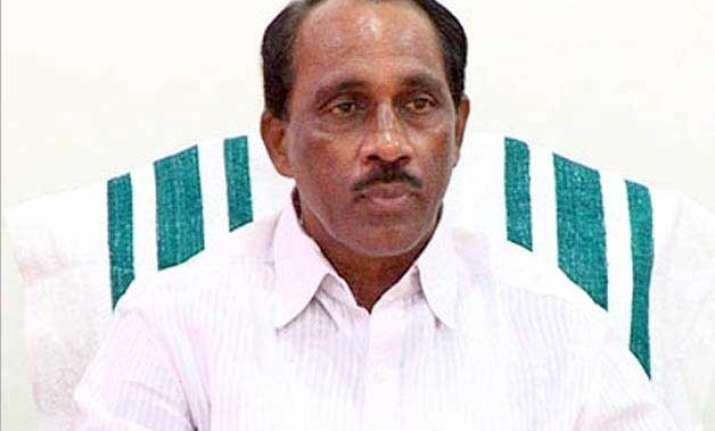 Kerala: Kerala Excise Minister K Babu today submitted his resignation to the Chief Minister Oommen Chandy following a court directive to the Vigilance and Anti Corruption Bureau (VACB) to register a case against this Congress leader in the bar bribery scandal. 
The orders, that came from a vigilance court in Thrissur, directed VACB to file a case against Babu on charges that he accepted a bribe from a bar owner.
This is the second resignation by a Congress leader over the bar bribery scandal. Earlier, Finance Minister K M Mani was made to quit following corruption charges against him.
Following a Public Interest Litigation (PIL) after the revelation that Babu had taken a bribe from the bar owner Biju Ramesh for renewal of licences of liquor bars, the court passed its order to VACB. It also directed to file a case against Biju for allegedly offering the bribe.
In addition to the orders, the court also slammed VACB for the delay in completing the probe and asked it to finish it off in a month.
Reacting to the court's judgement, Babu said, "I have informed the Chief Minister of my readiness to quit the office. I would not cling on to the post on any technical ground." He, however, maintained that his resignation was totally on moral grounds and that no FIR was registered against him.
In his defence, he added, "CPI (M) had conspired with bar owners against him. The CPI (M) had given an assurance to the bar owners if the party comes to power they would reopen the bars."
Terming the Vigilance court verdict as "unnatural", Babu said he would go ahead with legal proceedings to prove his innocence. In an apparent reference to the liquor policy of the UDF government to close down more than 700 bar hotels as part of its prohibition plan, he described himself as a 'martyr' for implementing a government scheme for the welfare of the society. 
He also claimed he was a 'victim' of conspiracy by bar owners who had incurred heavy loss and "who also got support of CPI(M)." Babu alleged that some bar owners had met at the residence of a CPI(M) MLA's house on the evening of December 15 in the "presence of CPI-M state Secretary Kodiyeri Balakrishnan". 
"A conspiracy was hatched against me after over 730 bars were closed," he said, adding he had been an MLA for 25 years and had come from a humble background.
(With PTI inputs)