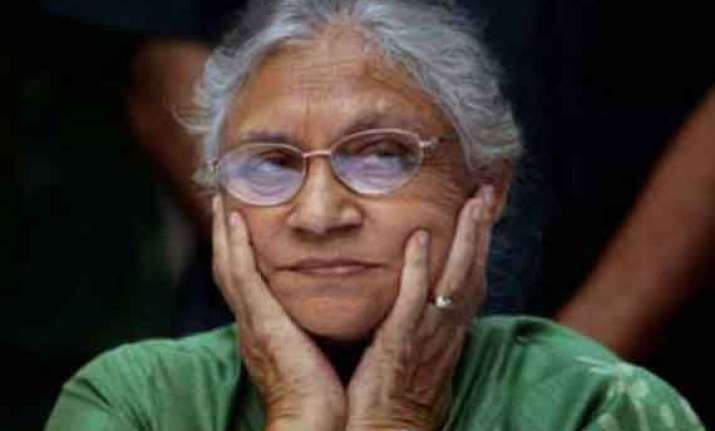 New Delhi: Yet another UPA appointed Governor Sheila Dikshit resigned today as the Narendra Modi government named former Uttar Pradesh Chief Minister Kalyan Singh as the nominee for Rajasthan along with three others for Maharashtra, Karnataka and Goa.
Sheila had yesterday met Home Minister Rajnath Singh in New Delhi.
High level sources at the home ministry had hinted of Sheila's resignation  after her meeting with Home Minister Rajnath Singh yesterday.
The meeting, just a day after Maharashtra governor K Sankaranarayanan' resignation fuelled the speculation that Sheila may follow suit. It lasted for five minutes only.
After the meeting she refused to comment on the agenda of the meeting but hinted a lot in her off camera interaction by saying- Nobody meets the home minister without any purpose. I have not come here to have tea with the home minister.
After the Narendra Modi government took charge May 26, seven governors have resigned following the government's signals - B.L. Joshi (Uttar Pradesh), Shekhar Dutt (Chhattisgarh), Ashwani Kumar (Nagaland), M.K. Narayanan (West Bengal), B.V. Wanchoo (Goa), Vakkom B. Purushothaman (Mizoram) and K. Sankaranarayanan (Maharashtra).
Sankaranarayanan resigned Sunday after he was transferred to Mizoram on the intervening night of Saturday and Sunday.
The only governor to be sacked is former Gujarat governor Kamla Beniwal—first transferred to Mizoram and then sacked Aug 6 for "misuse of power".
Four prominent BJP leaders were Tuesday named governors in Rajasthan, Karnataka, Maharashtra and Goa, with C. Vidyasagar Rao from Telangana taking charge in election-bound Maharashtra.
Former Uttar Pradesh chief minister Kalyan Singh was named governor of Rajasthan, Gujarat assembly Speaker Vajubhai Radabhai Vala took charge of Karnataka while Mridula Sinha, also a leading writer, moved into Goa.
Kalyan Singh succeeds Margaret Alva whose tenure ended Aug 5. Vala took the place of H.R. Bharadwaj, who retired in June. B.V. Wanchoo and K. Sankaranarayanan quit as governors of Goa and Maharashtra respectively.
The 82-year-old Kalyan Singh is a veteran Bharatiya Janata Party leader who presided over Uttar Pradesh when the Babri Masjid was razed in 1992.
A committed RSS activist, Kalyan Singh parted ways with the BJP following differences with former prim minister Atal Bihari Vajpayee. He returned for a second time to the party just before the 2014 Lok Sabha polls.
Vala, 76, is considered close to Prime Minister Narendra Modi. He began his political career with the erstwhile Jana Sangh. At one time he was a contender for the post of Gujarat chief minister.
A well known writer in Hindi, Mridula Sinha is a former national president of the BJP's Mahila Moracha. She is a past chairperson of the National Commission for Women.
Hailing from Karimnagar district of Telangana, Vidyasagar Rao served as a union minister of state for home in the Vajpayee government.
The 69-year-old was also the BJP president in united Andhra Pradesh and was elected to the Lok Sabha twice from Karimnagar. He was defeated in the 2014 general election.