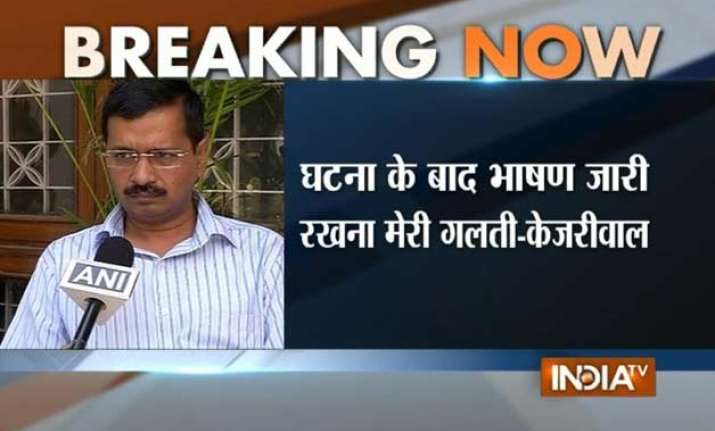 New Delhi: Delhi Chief Minister Arvind Kejriwal today broke silence on farmer Gajendra Singh's suicide and said that guilty should be hanged. He urged political parties to stop politicising the incident and rather focus on the issues that are forcing farmers to commit suicide.
Kejriwal also accepted that continuing the speech after the incident was an error and apologised for it.
Giving his account of the incident in an interview to a news agency, Aam Aadmi Party chief said, " Due to tree's branches I couldn't see what was happening on the tree."
Kejriwal added, "It is not right to blame the policemen present there as I believe they also wanted to save the person but no one thought that he would commit suicide."
He, however, did not accept any mistake on his or any of his leader's part rather blamed media and other political parties for politicising the issue. "Iske cheethde udaana band karo, isse sirf TRP bad rahi hai (Stop twisting it, it would only increase the TRP), he said accusing media for targeting him.
Expressing his belief in the enquiries being conducted, Kejriwal said that the truth would come out after the inquiry and culprits will be punished. " We need to seriously discuss the problems farmers are facing" he added.
The CM said that there are three issues that need to be discussed, "First is that the land of farmers should not taken without their consent. Second is that the farmers should be paid right price for their crop. Third is that if farmers face crop loss, the governments should help them."
Irritated after constant questing on the roles and mystery surrounding the death of Gajendra Singh, Kejriwal said, "I am saying I am guilty, can we now start talking about the farmers?"