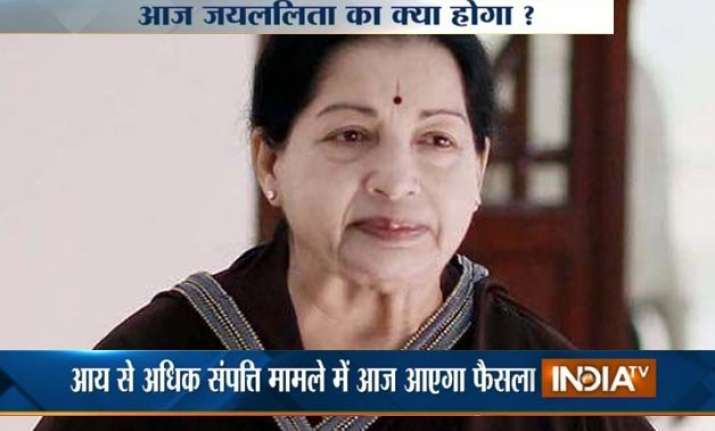 Bengaluru: Karnataka High Court is all set to give its verdict today on appeals filed by former Tamil Nadu Chief Minister Jayalalithaa and three others in a disproportionate assets case.
The special bench of the High Court headed by Justice CR Kumaraswamy will pronounce the judgment at 11 am as directed by the Supreme Court, which extended Jayalalithaa's bail up to May 12.
A trial court, headed by special judge John Michael D'Cunha, had on September 27, 2014 convicted and sentenced Jayalalithaa and her three accomplices to a four-year jail term in the Rs 66.65 crore illegal assets case that dragged on for 18 years.
The three co-convicts are Sasikala Natarajan, her nephew VN Sudhakaran and her aunt J Ellavarsi. Sudhakaran is also the disowned foster son of Jayalalithaa.
The Supreme Court had on October 17 last year granted interim bail till December 18 to the 67-year-old Jayalalithaa and her three co-convicts. Their bail was subsequently extended till May 12.
The general secretary of Tamil Nadu's ruling AIADMK had also spent three weeks in the central jail on the city's outskirts after the High Court rejected her bail petition.
The case was transferred to the Bangalore Special Court by the Supreme Court in 2003 on a plea by DMK, which claimed a fair trial cannot be held in Chennai as the Jayalalithaa-led AIADMK government was in power.
Tight security in Bengaluru for Jayalalithaa verdict
Meanwhile, security has been stepped up in the city ahead of the crucial verdict.
Additional Commissioner of Police Alok Kumar said that imposition of prohibitory orders under Section 144 of the CrPC would be put in place that bars any gathering in a radius of one kilometre around the High Court that comes under Vidana Soudha Police Station limits.
The orders will be in effect from 6 am to 9 pm as a precautionary step as thousands of Jayalalithaa's followers are expected to come to the city from Tamil Nadu for the verdict.
"We have deployed additional forces in the city and imposed ban order within 1km radius of the Karnataka High Court from 6 am to 9 pm on Monday to maintain law and order," Kumar said.
"Ten platoons of the Karnataka State Reserve Police, 500 policemen and 25 senior police officers will be present in and around the High Court to ensure peace and prevent any untoward incident. Entry into the High Court will also be restricted to avoid crowding," Kumar added.
AIADMK workers pray for favourable verdict
Yesterday, AIADMK workers organized special 'poojas' in temples and took out processions praying for a favourable judgement.
Women party workers took out traditional milk pot spiritual procession in many places, lamps were lighted in temples and coconuts offered as part of prayers for the return of Jayalalithaa as CM.
Echoing similar sentiment and targeting arch rival DMK, AIADMK mouthpiece 'Dr Namadhu MGR' on Sunday said 'the time for our Puratchi Thai (Revolutionary Mother) to sit on the chariot of governance is coming here tomorrow (Monday). Till then, little foxes may howl'.
Over 6,000 AIADMK women party in Tiruvarur carried milk pots on their heads and went in a procession which culminated at the ancient Thiagaraja Swamy temple where prayer sessions were held.
At the Madurai Meenakshi Temple, 1008 coconuts were broken in front of the sanctum sanctorum of 'Mahamaha Muneeshwara' - the guardian, protective deity.
Similar prayers and special yagnas like a 'chatru samhara yagna' were held across the state where Annadhanam (community lunch) was also provided for the people.
In Coimbatore, party men perform 'Gaja Puja' for acquittal of former chief minister J Jayalalithaa.