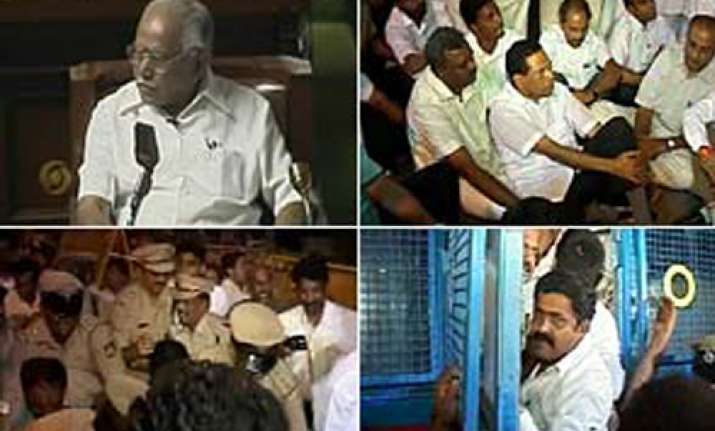 A day before a single judge of the Karnataka High Court hears the matter of disqualification of 11 BJP MLAs after a Division Bench expressed divergent views on it, a
Congress MLA, S V Ramachandra, resigned from the Assembly on Tuesday.
Two days ago, a JD(S) MLA, M C Ashwath, had resigned. Now the Opposition has been reduced to 99 compared to 107 BJP MLAs in the present 208-member House.
This is being seen as a relaunch of the BJP's 'Operation Kamala' that saw it lure as many as five Opposition MLAs between 2008-09 to stabilise its position in the
original 224-member Assembly — after it secured only 110 seats against a simple majority of 113.
MLAs are being lured to join the BJP to contest fresh polls on party tickets, with the offer of money and positions in the state Cabinet, the Opposition Congress and
JD(S) have alleged. Congress leader Siddaramaiah accused the BJP of approaching as many as 53 of the party's 73 MLAs in an attempt to lure some to leave.
The resignation of the Congress MLA came amidst denials by senior BJP leader Venkaiah Naidu of a relaunch of the 'Operation Kamala'.
The BJP is believed to be preparing for the eventuality of the strength of the House being restored to its original 224 if the disqualification of 16 MLAs by the
Assembly Speaker is found to be illegal by the courts.
The 224-member Assembly was reduced to 208 members after the Speaker disqualified 11 BJP MLAs and five Independent MLAs who withdrew support to the B S Yeddyurappa-led
government on October 6.
While the BJP has six Cabinet posts — vacant following the exit of six ministers in the October 6 rebellion — to offer to lure Opposition MLAs, it is still
contemplating a Cabinet reshuffle since it has the potential to trigger fresh dissidence at this juncture, say sources.