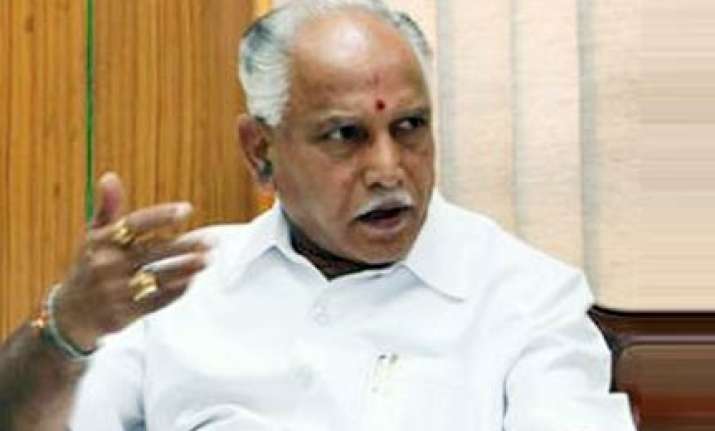 Bangalore, Nov 15: Defending allotment of land to a firm, in which his two sons are partners, Karnataka Chief Minister B S Yeddyurappa today denied committing acts of "nepotism or favouritism" and ruled out stepping down.
Under attack from the opposition, Yeddyurappa said he was ready to order a judicial probe by a retired Supreme Court judge into denotification and allotment of lands and sites, in the last ten years if the opposition agreed.
Admitting that he allotted land to his sons and also a residential plot in Bangalore to his MP son B Y Raghavendra, Yeddyurappa said they were done in accordance with rules and procedures.
Speaking to reporters here, he slammed the opposition for its "malicious propaganda" to damage the image of his family by "levelling baseless and trivial charges" and sought to turn the tables on them by "exposing" some cases involving the opposition.
To a pointed query whether he would step down following the footsteps of former Maharastra Chief Minister Ashok Chavan, who was eased out by Congress, Yeddyurappa shot back: "there is no comparison of my actions to the Adarsh Housing Society scam".
Justifying the denotification of land favouring his family members and allotment of two acres to a firm of which his two sons are partners, he said, "these have been done under the special provisions which has been in practice for several years and similar decisions were made by earlier governments."
Seeking to expose what he called "misdeeds" of some of his predecessors, including his earlier coalition government partner H D Kumaraswamy of JDS, he alleged, "Kumaraswamy allotted six acres of land to his brother H D Balakrishna near Whitefield when he was the chief minister."
"Under pressure from the opposition Congress leader Siddaramaiah, I ordered for denotification of six acres of land this March to Dr Mallikarjunaswamy at Kengeri on the city outskirts," he said.
"I will invite opposition for consultations in two or three days. If they do not agree, I will take my own decision. A special session will also be convened to discuss scams. Let the opposition produce documents," he said.
Claiming that the "expose" made today was "only a tip of the iceberg," he said "I have more to bare them all". PTI