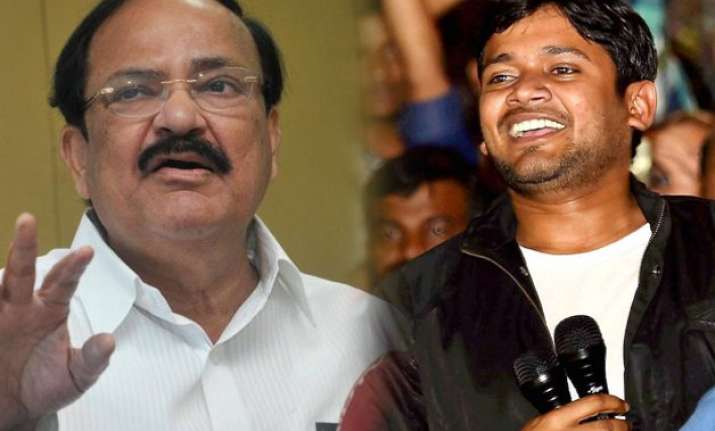 New Delhi: Senior BJP leader and Union Minister Venkaiah Naidu today took a jibe at JNUSU president Kanhaiya Kumar saying he can join politics as his 'favourite' political party is almost in single digit in the Parliament.
"They must study and stay away from politics. If they are interested in politics, they can leave studies and join politics. He can join any political party. His favourite party is now in single digit in the Parliament. Let him join that party. Let him not use the garb of students and students union to take up the cause of Afzal guru, Yakub Memon and Maqbool Bhatt. All these three people are anti-nationals," Naidu said while referring to the fact that the CPI has only one member each in the Lok Sabha and Rajya Sabha.
Kanhaiya, arrested in connection with a sedition case, was released from the Tihar Jail yesterday late evening and returned to the university campus amid noisy celebrations by hundreds of students and teachers.
Attack the Left parties, Naidu also advised Kanhaiya to help the concerned authorities to see that activities similar to the February 9 event are curbed in the university rather than enjoying the publicity.
"The question is let him condemn those slogans and distance himself from that. Let him help the authorities to see that such activities are curbed in the university," Naidu said.
The 29-year-old, who hails from Bihar, was arrested on February 12. Kanhaiya, the first president of the JNU Students Union from the CPI-affiliated AISF, was widely denounced, more so after he was beaten up in a Delhi court on two days by some lawyers.
Delhi Police kept claiming that they had irrefutable evidence that Kanhaiya Kumar had raised anti-national slogans but failed to come up with the evidence in the court.
On Wednesday, the Delhi High Court gave a six-month interim bail to Kanhaiya but made wide-ranging observations on issues such as nationalism and love for the country that were quickly lapped up by the establishment and denounced by legal experts as unwarranted. The court also asked Kanhaiya to ensure that no anti-national activity took place in the JNU.