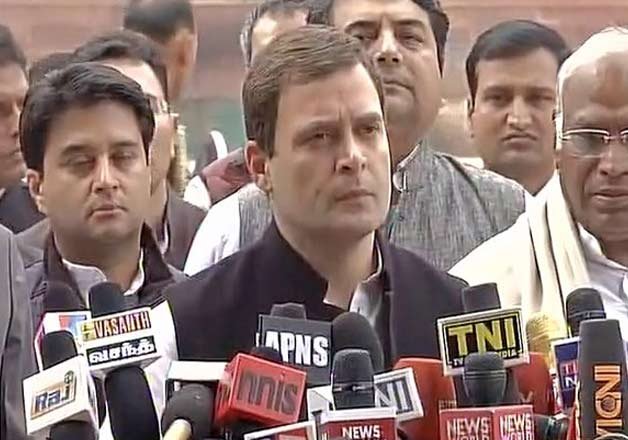 New Delhi: Congress Vice President Rahul Gandhi today said that those who were involved in anti-national activities must be punished but innocents should not be victimised.
He was talking to media persons after he led a party delegation to meet President Pranab Mukherjee .
Lashing out at the RSS , Gandhi  said that Sangh is trying to impose  it's ideology on students of nation, we won't let that happen.
"This nation will prosper because of its student's imagination, imposing an ideology on them will not benefit the nation," he added
Rahul said patriotism is in my blood if anyone has said anything against the nation he must be punished but the whole university must not be dubbed as anti-national
Questioning the law and order situation, Rahul said, Journalists were thrashed in public with police just watching.This has damaged India's image globally-Rahul Gandhi
Taking a swipe at his critics, the congress vice president also said " Nationalism is in my blood, my family sacrificed again & again for this nation."
Citing the attacks in Patiala House court here, Congress had yesterday alleged that "jungle raj" is prevailing in Delhi.
JNU students union leader Kanhaiya Kumar and some journalists were yesterday attacked in a court complex here by rowdy lawyers. Despite instructions by the apex court to ensure security at the Patiala House Court, where violent men in black robes had attacked journalists on Monday, Delhi Police failed to prevent the attack on Kumar, who has been accused of sedition.
On Monday too, journalists were attacked by such elements.
The Congress Vice President had led protests over the Rohith Vemula issue in Hyderabad and also the FTII students agitation in Pune.