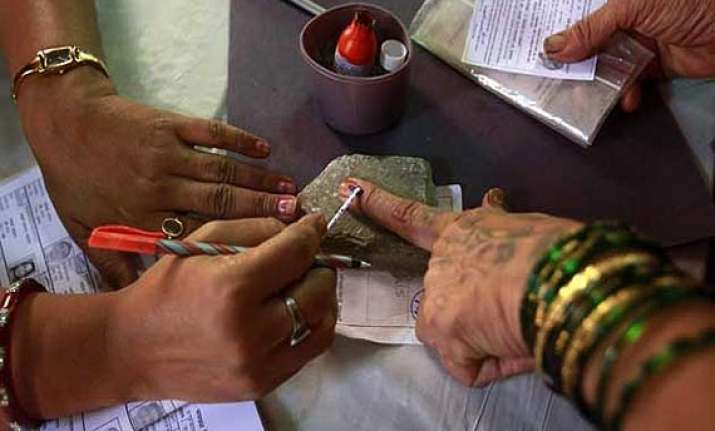 Ranchi:  Stage is set for the penultimate round of five-phase polling for 15 Assembly seats in Jharkhand tomorrow with former Chief Minister Babulal Marandi and three incumbent ministers testing their luck.  
A total of 43,48,709 voters are eligible to decide the fate of 217 candidates, including 16 women.  Adequate security arrangements have been made in all the 15 constituencies with many being Maoist-hit.  Polling in the worst-hit Maoist areas in the previous three rounds passed off peacefully.  
Marandi, whose fate has already been sealed in the third of the five-phase polling from Dhanwar, is among the 13 candidates in the fray from the Giridih seat this time.  He had represented Giridih in the Lok Sabha in the previous House. Polling will end at 5 PM in Dhanbad and Bokaro while the EVM will be sealed at 3 PM in the rest of the constituencies.
Jharkhand Disaster Management Minister Mannan Mallick (Congress-Dhanbad), Tourism Minister Suresh Paswan (RJD-Deogarh) and Building Construction Minister Haji Hussain Ansari (JMM-Madhupur) are in the field, besides 11 MLAs seeking re-election.
The Jharkhand Mukti Morcha and the Bahujan Samaj Party have fielded the maximum of 14 candidates each followed by the Jharkhand Vikas Party (Prajatantrik-13 candidates), CPI (three) CPI (M) and NCP in two seats each.  The fourth phase seats include Madhupur, Deogarh (SC), Bagodar, Jamua (SC), Gandey, Giridih, Dumri, Bokaro, Chandankyari (SC), Sindri, Nirsa, Dhanbad, Jharia, Tundi and Baghmara but there is  no separate seat for tribals.  
With 28 candidates, Bokaro has the maximum number of contestants while Jamua, Chandankyari and Tundi have the minimum of ten candidates each.In all, 716 out of 3,718 polling stations are marked as highly sensitive and 2007 as sensitive and only 615 polling station locations are situated in urban areas.  The Election Commission assigned 335 polling stations for webcasting.
The EC has also deployed 27,410 polling personnel across the 15 constituencies with 5,482 Control Units for EVM and 6,978 ballot units.
VVPAT (Voter verified paper audit trail) will be used in a combined total of 917 polling stations in Bokaro and Dhanbad.
The Election Commission has also deployed 15 general observers, six expenditure observers, two police observers, two awareness observers and 1,069 micro observers, according to EC sources. Polling to 50 of the 81 seats has already been concluded in the previous three phases.