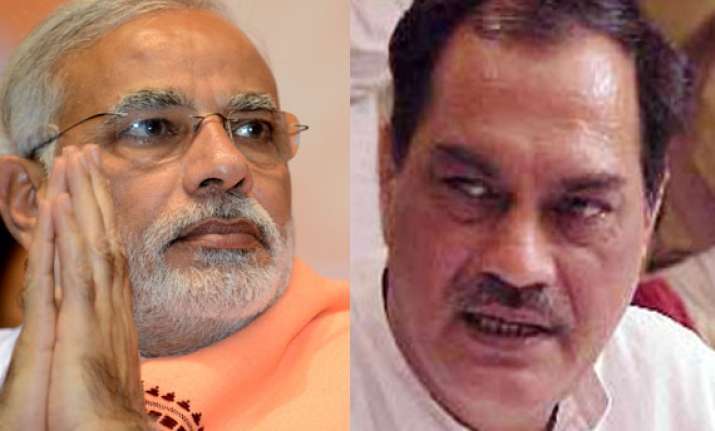 Chandigarh: After quitting Congress, Ambala MLA Venod Sharma on Sunday heaped praise on BJP's prime ministerial candidate Narendra Modi, terming him as a man of vision who wants to take the country forward.
Sharma offered full support to any party, organisation or individual who will "help in making the Gujarat strongman the next PM".
Sharma is the father of Manu Sharma, convicted in model Jessica Lal murder case.
He scotched media speculation that he was joining BSP after senior BJP leader Sushma Swaraj had expressed her opposition to his entry in Haryana Janhit Congress -- an ally of the saffron party.
He, however, did not clarify whether he was joining any outfit.
Sharma had quit Congress on Wednesday after remaining in the party for four decades and forwarded his resignation to Sonia Gandhi being upset over several issues including "anti-democratic" functioning of the party.
He was speaking at a well-attended gathering on the occasion of Jan Chetna Mahayagya in Kurukshetra, about 100 km from here, an event which he had organised to mark the end of his 101-day-old 'Jan Chetna Yatra'.
Sharma was critical of Congress' functioning, including "wrong selection" of candidates for various elections and for "being soft" on leaders who had worked against the party.
His open praise for Modi indicated that doors of his entry in HJC were still open and that he could fight the upcoming Lok Sabha polls from Karnal constituency, which he has been eyeing after quitting Congress.
"It is true that Modi is the prime ministerial candidate of BJP. Everyone knows he comes from an ordinary background and has on the basis of his hard work risen to a position where every section wants to see him as the prime minister. This I am saying is the feeling of common people of this country as well as my own feeling," said Sharma, once a close confidant of Chief Minister Bhupinder Singh Hooda.
He said, "I want to make it clear that question is not with whom I am going, with whom I am joining hands and what (post or seat) I will get. Rising above politics, I want to announce that any person, any party or any section of society, who will help Modi become PM, he will have my full support and I am firm on this."
Heaping praise on Modi, Sharma said he has led the state on the path of development.
"Modiji has got the vision, he wants to take the country forward and in this he is getting love and support from the people of this country," he said.
He then noted that it was not possible in Congress for a person from such a humble background to rise to this level.
Without naming anyone, Sharma said that he felt "ashamed" when people occupying high posts passed sarcastic comments on Modi's humble background.
On speculation that he was joining BSP after Swaraj opposed his entry in Kuldeep Bishnoi's Haryana Janhit Congress, he said, "I want to say that for some time there has been speculation in the media. I want to state that I neither deny nor confirm these..."
"I want to state that I had and still have relations with (former chief minister) Bhajan Lal family. When you are in politics, it does not mean that social relations break as politics does not determine your social relations.
Sharma, who was eyeing a Rajya Sabha nomination but was left out when former Union minister Selja's name was announced by Congress, said the party today is faced with a situation where its leaders do not want to face the electorate.
Selja was elected as Lok Sabha MP from Ambala seat in the 2009 polls.
"Selja says she does not want to contest, Sonipat MP Jitender Malik says he does not want to contest and even the former HPCC president Phool Chand Mullana says he does not want to fight. Even Congress Working Committee member Birender Singh says he does not want to contest," he said.
Lashing out at his detractors within Congress, he said a few people were trying to control the party and there was no internal democracy in the organisation.
He also targeted Selja for allegedly scuttling his pet project - Industrial Model Township - which was earlier proposed to be set up in Ambala.
Sharma, who is trying to project himself as a tall non-Jat leader, said had resigned from Congress Election Committee as people did not have a say as to who should be given tickets and it was just five or six people who decided it.
"There is difference between what is being said and what is being followed. Some few people are trying to control the party, such a situation not only harms the party, but is also harmful for the country," he said.
On his decision to snap ties with Congress, Sharma said, "Sometimes a time comes when you have to take a tough decision about which people may say that you have taken a wrong step, one which will have far reaching consequences...But, I want to say that I have not taken this decision for any personal gain or vested interest."
Seeking to strike a chord with the Sikh community as Kurukshetra has a sizeable number of Sikhs, he said the 1984 riots can never be forgotten and added that the dark memories were still alive.
He also sought to fight for justice to families of victims whose kin had been killed during the riots in Hodh Chillar village in Rewari district.
Sharma slammed the Haryana government, saying the inquiry commission it had set up in this regard had failed to submit report even three years after its constitution.
"If the Commission does not give its report within a month from now, we will start an agitation," he said.
Sharma also said that when he had raised his voice for reservation to the economically backward members of the Brahmin and Rajputs, the matter had been politicised and he had to face criticism from various quarters.
"If one poor family gets job and even if that ends my political career, I will be happy," he said, adding he will continue to raise voice for what he feels is right.