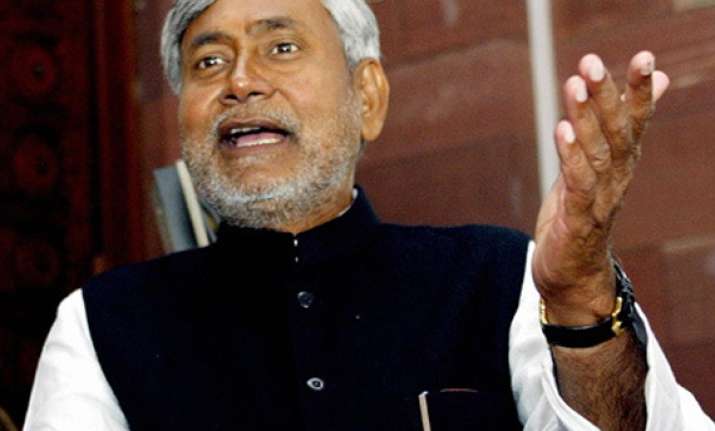 New Delhi, June 26: Amid perception of growing rift between BJP and JD-U, Bihar Chief Minister Nitish Kumar today asked his party spokesperson not to do "anything which will increase differences" within NDA.
"BJP President
Nitin Gadkari
and JD-U President Sharad Yadav have expressed their views. I have told our spokesperson to express his views on basis of facts and as per the seriousness of the issue and not to say anything which will increase differences," Kumar told reporters here.  
His remarks came a day after Gadkari asked all party functionaries and alliance partners to "exercise restraint" while airing views on coalition-related issues.  The BJP chief's remarks had followed JD-U resenting the statement of BJP leader Balbir Punj that his party has not outsourced to anybody to define who is secular within BJP, an apparent attack on Nitish Kumar, who had a few days back said the NDA Prime Ministerial candidate should have secular credentials and be acceptable to all allies.  
Another party JD-U leader Shivanand Tiwari had said that NDA cannot come to power with a "fanatic face".  
He had also defended Finance Minister Pranab Mukherjee's handling of the economy, which had ruffled many a feathers in BJP prompting Sharad Yadav to issue a statement that the party spokesperson should either consult him or Nitish Kumar before speaking out.
Kumar's remarks today are being seen as an attempt to put a lid on the war of words between leaders of the two parties in NDA. Yadav has also stated that JD-U's support to Mukherjee's candidature for the President's post did not mean there was rift in NDA and that the JD-U will remain a part of the opposition alliance.
Kumar, who is on a two-day visit here, is scheduled to have a meeting with the Planning Commission tomorrow to discuss Bihar's plan.
He today met Union Minister for Roads and Highways C P Joshi on the issue of taking up the repair work of Gandhi Setu over river Ganga in Patna.
"The Gandhi Setu on Ganga river in Patna is in a bad shape. It requires maintenance and for many years the issue has been under discussion. Consultants were appointed several times but the condition of the bridge has only deteriorated.  "The toll from the bridge goes to the Centre and so it is their repsonsibility to maintain it," the Chief Minister said.