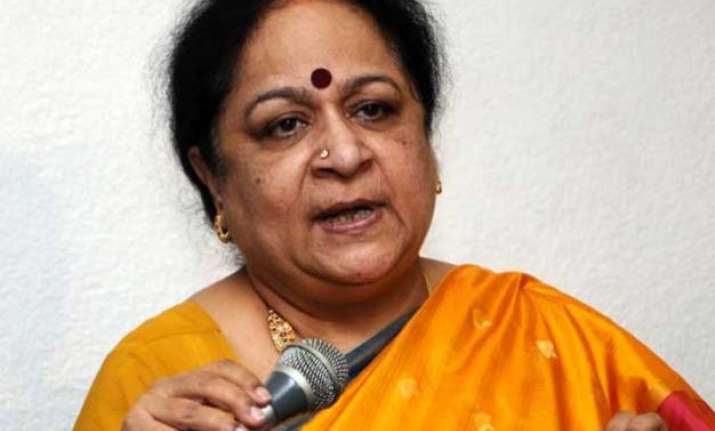 New Delhi: The rebel Congress leader Jayanti Natarajan has accused Congress vice-president of planting false stories against her in media.
In her letter to Sonia Gandhi, Natarajan has acused Rahul of running a "vicious, false and motivated" campaign against her.
"I want to place on record, that from December 20, 2013, until now, I have still not been told by you, why I was asked to resign from the Council of Ministers, nor have I ever been asked or given an opportunity to explain, if indeed I had committed any wrongdoing.
"The next day my resignation was headlines in the media, and all the initial reports correctly reported that I had stepped down for party work. By the afternoon, to my shock, I received information that persons from the office of Shri Rahul Gandhi were calling the media and planting stories that my resignation was NOT for party work," said Natarajan in her letter.
"My sources were impeccable, and I felt unease. Thereafter, the media was flooded with negative stories about me. The same day, namely, the day after I resigned, Shri Rahul Gandhi addressed a FICCI meeting of industrialists, where he made uncomplimentary references to delays in environmental clearances, and the adverse effects upon the economy, and assured the corporate world, that the party and government would henceforth ensure that there would be no delays, and bottlenecks for industry. After being alerted by the media, I saw the entire speech on YouTube. It was then that some in the media questioned me if I had been asked to resign immediately, to enable Shri Rahul Gandhi to address FICCI and the corporate world with the news of my resignation in the background," added Jayanthi.
"...What followed was a hysterical vicious false and motivated campaign against me, in the media, orchestrated entirely by particular chosen individuals in the party. There was not a single word of truth in what was said, nor was there a single concrete fact," Jayanthi further said.