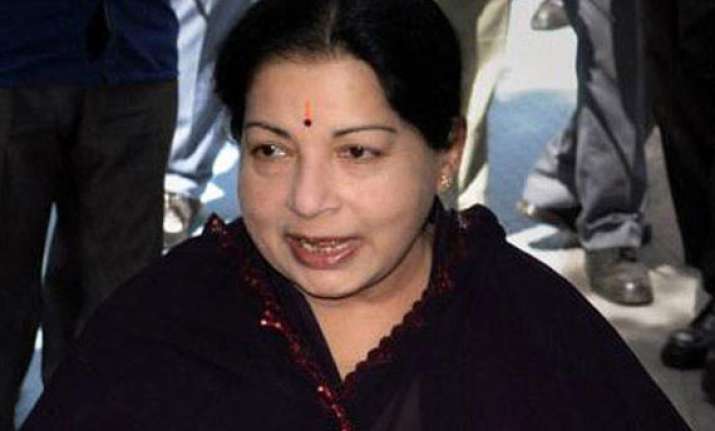 Chennai: Hours after Sri Lankan Navy arrested 50 fishermen from Tamil Nadu, Chief Minister Jayalalithaa wrote to Prime Minister Narendra Modi and demanded his immediate intervention to secure the release of total 93 fishermen and 62 boats, presently in the custody of the neighbouring nation.
In her letter to Modi, she referred to Sri Lanka's 'deliberate and callous' design in not releasing the 55 boats and fishing gear which were impounded from Tamil Nadu fishermen apprehended earlier.
She further reiterated her earlier request to impress upon the Sri Lankan government to abandon their 'inhuman strategy' of impounding the boats and fishing gear for extended periods of time and also to take up this issue of frequent apprehension of Tamil Nadu fishermen at the highest diplomatic levels.
On Tuesday, 50 fishermen from Nagapattinam and Karaikal were arrested by the Sri Lankan Navy personnel for allegedly fishing near the Lankan water.
The fishermen were taken to Kankesanthurai with their five mechanized boats and two country boats, 'Q' branch Inspector Kennedy and fishermen's association secretary S Emirit said.
On July 22, 38 fishermen from Kottaipattinam and Rameswaram were arrested by the Lankan Navy on charges of crossing the International Maritime Boundary Line.
Fishermen of Ramanathapuram district have been boycotting fishing since July 24 highlighting their demands, including putting an end to frequent 'arrests and harassment' by Lankan Navy personnel.
Reiterating her government's 'firm commitment' to restore traditional fishing rights of Tamil Nadu fishermen in the Palk Bay and retrieval of Katchatheevu," Jayalalithaa had last week written to Modi, seeking the Centre's intervention in securing the release of the fishermen.