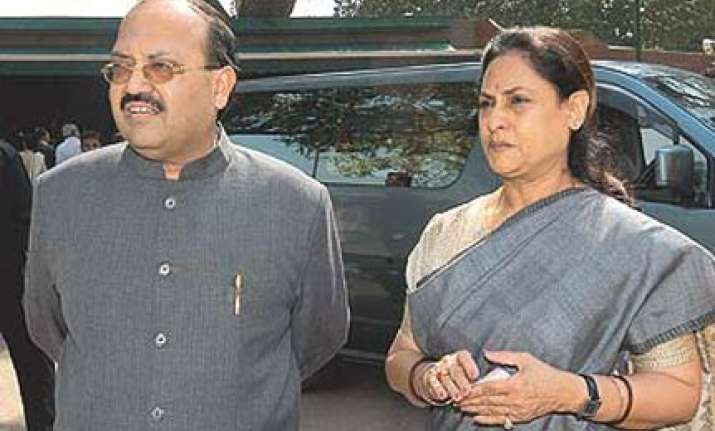 Jaya Bachchan "feels" the absence of Amar Singh in Samajwadi party but would think about whether to join him in any of his future political venture only after her Rajya Sabha term is over, which is just two months away. 
But she said an emphatic no when asked whether she would like to join electoral politics, saying I would not be "able to handle it".  "I don't think the party has changed," she said when asked about her equations within the party post-Amar Singh, but said, "Personally Amar Singh not being in the party is felt". 
Admitting that there might be differences between her and the Samajwadi Party ideology, Bachchan said during an interaction with reporters here that, "SP is a grassroot party. We live in Mumbai, which is the financial capital of India and the glamour world. So there are differences". 
 She said, "It was not difficult for me (to adapt within the party), because I have also seen this kind of life".  On her current relationship with Singh, she said, "I am still on very good terms with him and just saw him off before he left for a rally". When asked whether she would join Amar Singh's future political venture, she quipped, "not yet. There is very less time for my term (Rajya Sabha tenure) to be over". 
Bachchan said she had joined the Samajwadi Party because nobody else had asked her. "Amar Singhji asked me, which I was very glad to accept". Asked about her plans once her term was over, she said, "I have not planned anything yet. I don't plan". 
On Mulayam Singh's comments on women MPs in the context of the women's reservation Bill, Bachchan said, "he (Mulayam) wanted a debate. So you (reporters) are already discussing it". 
She disagreed with trooping into the well of the House in Parliament to raise matters. "I have never trooped into the well of the House.  Later during the interaction, she said, all women MPs were united as far as the women's Bill was concerned.
"Sometimes frustration leads men to go into the well of the House. But I don't see many women doing it. It is again using physical strength," she said.  The Rajya Sabha MP further said, nominations to the Upper House which were reserved for eminent people in the field of culture and literature and art were being given to politicians now. PTI