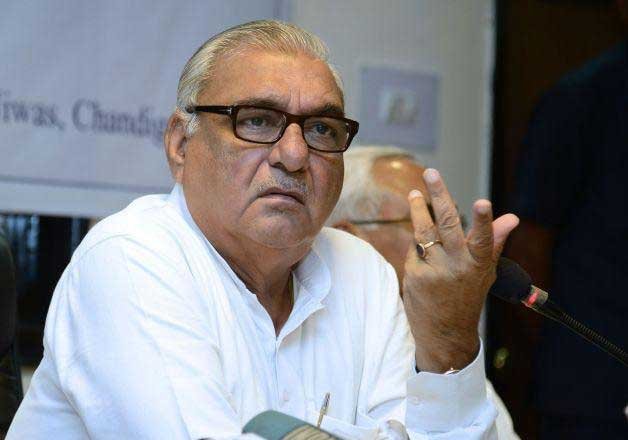 New Delhi: Amid the ongoing Jat agitation, a 90-second audio clip of a purported conversation between a close aide of former chief minister Bhupinder Singh Hooda and a Khap leader, allegedly to incite violence, has gone viral on the Internet, prompting the BJP government to say it will order an inquiry.
Prof Virender, advisor to former Chief Minister Bhupinder Singh Hooda of Congress, accepted that the voice in the clip is his but alleged the conversation has been "doctored".
Leader of Opposition in Haryana Assembly, Abhay Singh Chautala said the clip makes it clear how "attempt" is being made to "instigate" the protesters "sitting peacefully".
Chautala further blamed Congress leader and former Haryana chief minister Bhupinder Singh Hooda for fuelling violence.
Hooda and his family's, including his son and Congress MLA from Rohtak, Deepender Hooda, timely exit before the jat protest turned violent has raised eyebrows.
Even as his hometown Rohtak was burning Hooda chose to leave for New Delhi to go on a hunger strike to appeal for "peace and harmony". No attempts were made to douse the fires at home.
The maximum carnage was witnessed in Rohtak and Jhajjar areas, former Haryana chief minister BS Hooda's political strongholds.
The mob went on a rampage all along a 7-km stretch from the IG Police's office to Quila Road. Curiously, Hooda's house and properties were untouched while neighboring houses were torched, according to online news portal Firstpost.
The BJP's state Finance Minster, Capt. Abhimanyu's house was completely looted and burnt while his family, who were home when the mob attacked, had to flee to safety. The same treatment was meted out to BJP MLA, Manish Grover.
While senior INLD leader Chautala sought an inquiry and punishment to those found guilty of instigating the protesters, he also said, "One thing becomes clear that the government is illegally tapping everyone's phones."
When contacted, Virender told PTI, "I don't know if my phone was being tapped. But someone has uploaded the clip with malafide intention."
He said he was talking to Khap leader Capt Man Singh over phone. "Nowhere have I talked about instigating Jats or anyone. Moreover, the conversation is an old one, much before the current unrest started," he said.
"I am, in fact, telling Capt that peace should not be disturbed. Where have I talked about instigating anyone? The clip has been doctored," he claimed.
Health Minister Anil Vij said when despite government's attempts the stir intensified it was suspected some forces wanted it to flare up.
"We suspected there was some director behind the scene who who was trying to inflict damage on the state to reap political benefits. Our government will order an inquiry into the clip which has gone viral. Anyone who is found guilty of inflamming passions won't be spared," Vij told reporters.
Haryana's Education Minister Ram Bilas Sharma said there is something "fishy" in the clip.
"Government will investigate the matter, whatever steps need to be taken as per law, we'll take," Sharma said.
"Things have started to come out before the public now. We are appealing to the people of Haryana they must cooperate in restoring peace, order and harmony," Sharma said.
Haryana Janhit Congress chief Kuldeep Bishnoi said that "in the garb of reservation, some political leaders in the state were playing dirty caste politics".