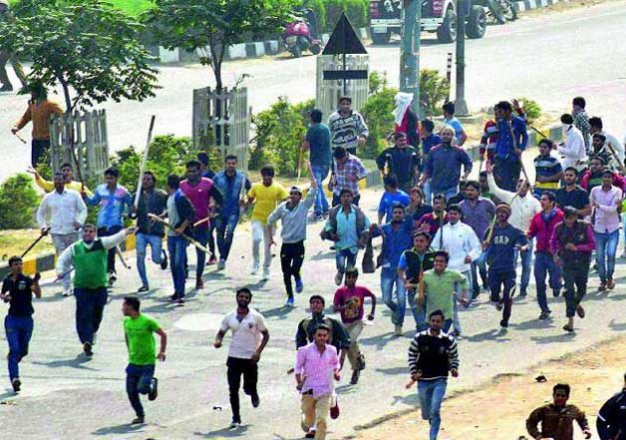 New Delhi: Jats of Haryana have resorted to violence which reflects both their desperation as well as frustration over getting them included in the OBC Other Backward Classes (OBC) list.

Honestly speaking, the crass opportunism practiced by Political parties of all hues made things murkier in Haryana and as a result, frustration started creeping in the Jat community which now gets manifested at regular intervals.
 
Let's first understand what is agitating the minds of Jats in Haryana.
 
Despite considered economically affluent and socially powerful, Jats of Haryana want to be included in the OBC list so that they become eligible for reservation in government jobs as well as admission in educational institutions.
 
Jats constitute around 29% of Haryana population and it makes them politically very powerful in the state. Out of 90 Assembly seats in Haryana, almost one-third constituencies are dominated by Jats alone. That's one reason why no political party gathers the courage to resist their demand for inclusion in OBC list.
Read Also: Shoot-at-sight ordered, curfew imposed, Army called in as Jat protesters go on rampage in Haryana
In fact, Jats are agitating for OBC quota since 1991 when Mandal Commission recommendations were implemented.
 
In 1997, National Commission for Backward Classes rejected their demand for inclusion in OBC list.
 
In 2002, owing to tremendous pressure from the Jat community, National Commission for Backward Classes once again conducted a survey to review their backwardness in 6 states including Haryana. The survey came to a conclusion that on socio-economic parameters, Haryana's Jats were actually comparable to higher castes and not the lower castes. Jats were left disappointed once again.
 
In March 2014, just ahead of Lok Sabha elections, the UPA government brought Jats under the OBC list  in Bihar, Gujarat, Haryana, Himachal Pradesh and the National Capital Territory of Delhi, Bharatpur and Dholpur districts of Rajasthan, Uttar Pradesh and Uttarakhand.
 
The UPA government did so ignoring the fact that National Commission for Backward Castes (NCBC) had submitted a report on 26 February 2014 clearly stating that the Jat Community had "not fulfilled the criteria for inclusion in the Central List of OBCs. As expected, the decision was challenged in the courts and finally, this decision was set aside by the Supreme Court in March 2015.
 
In desperation to keep Jats on its side in 2014 Assembly elections, B S Hooda, Congress Chief Minister of Haryana, included Jats and 4 other castes in Specially Backward Class (SBC) and gave them a 10% reservation. Even this decision was termed null and void by Punjab and Haryana High Court in July 2015 after the Supreme Court rejected the decision of UPA govt to include Jats in OBC list in 9 states.
 
Like every other political party, the BJP also promised Jats reservation in jobs and educational institutuins in the run up to October 2015 Assembly elections.
Once the BJP won Assembly elections, the Jats of Haryana started pushing their case for inclusion in OBC list.
 
Now the BJP has come up with a new proposal which is somewhat similar to the decision of Hooda government which was rejected by the High Court. The only difference is that the BJP has offered to increase the quota from 10% to 20%  for Economically Backward Persons (EBP), a category that includes Jats and 4 other castes namely Jat Sikhs, Ror, Tyagi and Bishnoi. The BJP's proposal also calls for increasing the annual income ceiling under EBP from Rs 2.5 lakh to Rs 6 lakh so that maximum people can be covered under this category.
 
Unfortunately for BJP and its state chief minister Manohar Lal Khattar, the Jat leaders have rejected even this offer. The Jat leaders don't want to be clubbed with any other caste, they are adamant on separate reservation for Jats. And an overwhelming majority of them want nothing less than OBC status for the community.
 
The desperation of Jat leaders which is fast turning into frustration has led to a situation where the they  have perhaps come to the conclusion that  their voice will not be heard unless they do something that becomes media headlines and that explains they are orchestrating mindless violence all across the state. They tried to even put BJP Minister Captain Abhimany's house on fire. In India, unfortunately, acts of violence make for best of media headlines and Jats have perhaps understood it better.
 
There is another aspect that can't be ignored for long as it is fraught with grave danger. The insistence of Jats on inclusion in OBC list has made those wary who are already parts of that list. Murmurs of dissent are already coming out from the OBCs of Haryana who are not in favour of including Jats under OBC list. Even a BJP minister from Khattar cabinet belonging to OBC community has threatened to launch an agitation against Jat leaders if they continue to indulge in violence pressing for a demand, which he believes, is totally unjustified.
 
The Jats are not ready to accept anything less than the OBC tag and a nervous state government does not know how to handle this. In the meantime, the state is bearing the brunt of mindless violence.