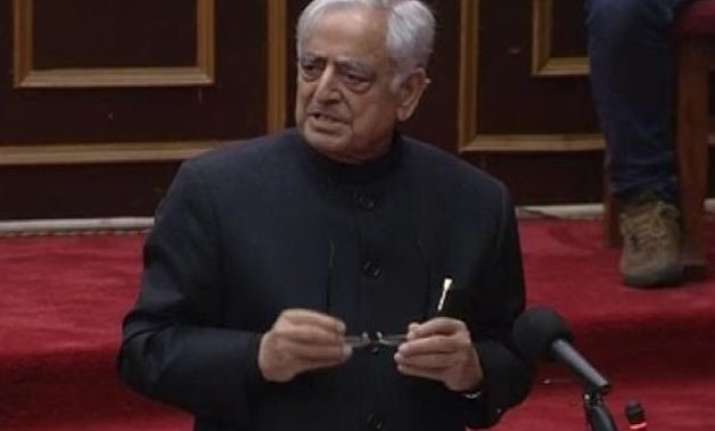 Srinagar: After days of acrimonious scenes on beef ban issue which saw an Independent MLA being assaulted by BJP members, Jammu and Kashmir Assembly today unanimously passed a resolution proposed by Omar Abdullah, appealing to people of the state to maintain communal harmony.
As soon as the Question Hour ended, opposition NC leader Omar Abdullah said a deliberate attempt is being made to destroy the amity and harmony of the state.
Citing yesterday's attack on MLA Sheikh Abdul Rashid, he said it was not the real face of the state and that the House should pass a resolution to send a message that people should maintain harmony and brotherhood, a suggestion quickly endorsed by Chief Minister Mufti Mohammad Sayeed who praised Omar for his initiative.
"We created a precedent yesterday but that is not the real face of Jammu and Kashmir. At the time of partition, Mahatma Gandhi saw a ray of hope in the state. It was people of Kashmir who raised the slogan of 'Hamlavar khabardar, hum Kashmiri hai tayyar' with toy guns in hand (at the time of raids by tribals from Pakistan) and Hindu, Muslim, Sikh, Isayee aapas mai ha bhai bhai (Hindus, Muslims, Sikhs and Christians are brothers)," Omar said.
He said there were deliberate attempts to destroy this communal harmony in the state.
"There are religious sentiments involved from both (sides) but it seems that a deliberate attempt is being made to destroy the amity and harmony. Internet has been suspended in Jammu and there is tension in Udhampur today. Let us again send that Gandhi's ray of hope to the people of the state," he added.
Chief Minister Mufti Mohammad Sayeed, while responding, said he was "happy" that Omar had brought up the issue. He was all praise for Omar's grandfather and National Conference founder Shiekh Mohammad Abdullah saying the stalwart of Jammu and Kashmir politics took a stand on secular politics much before partition in 1947.
"It was in the Sopore convention of 1938 when the fight for independence was still ongoing in the subcontinent that National Conference took a stand. In 1947, when migrants from other Kashmir (PoK) came here, the people in Bijbehara welcomed them with milk and water," Sayeed said.
The Chief Minister said Jammu and Kashmir gave a "shield of secularism to India and there was no reason we should be distancing ourselves from it."
Sayeed said extremism was in favour of no one and needs to be curbed and the country needs to be inclusive.
"Unless you do not become inclusive, you cannot become the economic power and the nation you aspire to be. This resolution should go from here to send a message of harmony to the people of the state and the rest of the country," he said.
Speaker Kavinder Gupta put the resolution before the House, which passed it unanimously.