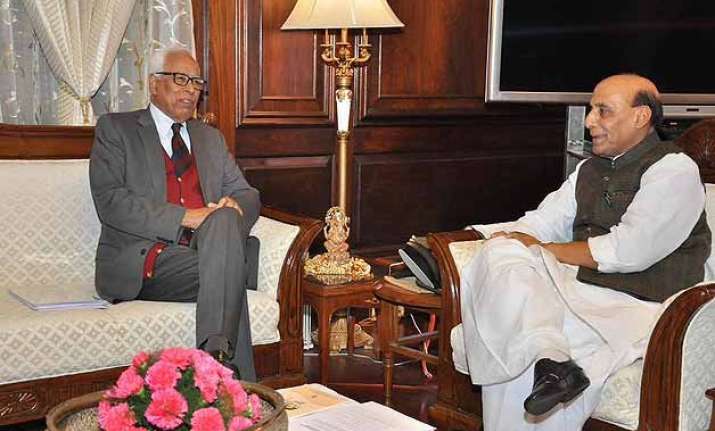 New Delhi:  Jammu and Kashmir Governor N N Vohra today held a series of meetings with the central leadership to help the state overcome the financial crisis due to last year's flood.
During his separate meetings with Home Minister Rajnath Singh and Finance Minister Arun Jaitley, the Governor briefed them about the financial problems and sought immediate central assistance for providing relief to people who had been affected by September's worst-ever flood.  
During the meeting, it was agreed that severely and partially damaged houses will also be eligible for getting compensation from the state government.  "The modalities are being fixed up and a scheme will be announced soon," a senior official said.  
The Governor will be calling on Prime Minister Narendra Modi tomorrow morning after which it was expected that an in-principle nod for a package for the state would be given, official sources said.
The Union Home Minister will also chair a meeting of all departments to review ongoing projects for providing relief to the people who have hit badly in the floods.  During his meeting with Jaitley, the Governor stressed upon removing bottlenecks for release of funds for the state immediately as the state was passing through a critical stage because of accumulating liabilities on account of temporary restoration of the public infrastructure.
The Governor apprised the Union Finance Minister that the state government continues to reel under the burden of huge structural negative Balance in Current Revenues (BCR) which has grown over the years.
The situation has been further aggravated by the unprecedented floods that had struck the state in September 2014 resulting in colossal losses to life, private property and public infrastructure.
The damages have adversely impacted the pace of economic activity in the state also leading to erosion of state government revenues, the Governor told Jaitley and highlighted an unfunded gap of over Rs 5000 crores in the overall resources of the state government as a result of which the level of pending liabilities across the treasuries has crossed over Rs 2000 crore.
The Union Finance Minister assured the Governor that the State Government's financial difficulties will be immediately looked into with all sensitivity and sympathy on an emergent base.
It was decided that a team of senior officers from the state government will meet the Secretary (Expenditure) in the Union Finance Ministry so that the state government's requirements are addressed in a time-bound manner.
Vohra's visit comes in the backdrop of his separate communications to Jaitley and Rajnath on the grave financial crisis in the state and delay in rehabilitation of the flood victims.