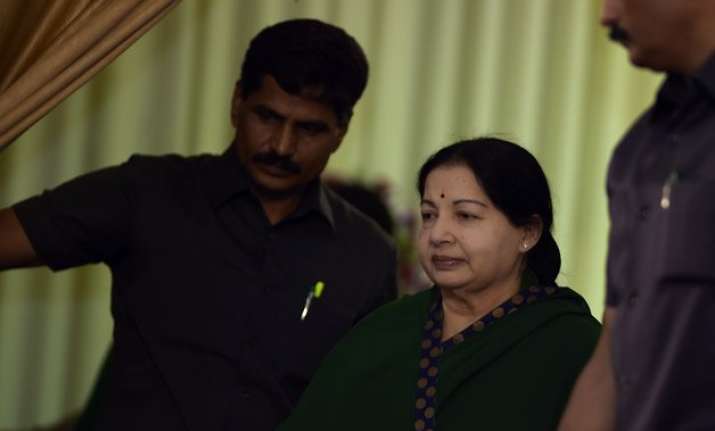 Chennai: Attending office for the first time in her 5th stint as Tamil Nadu Chief Minister, J Jayalalithaa today cleared a string of welfare proposals worth Rs 1800 crore and declared open 201 more eateries under the populist 'Amma Canteen' scheme.
Getting down to the business of governance in the state where elections are due next year after being sworn in yesterday, Jayalalithaa cleared a slew of welfare schemes worth over Rs 1800 crore, including those for improving road and drinking water facilities and extending assistance to indigent families headed by women.
Jayalalithaa, who arrived at the state secretariat at Fort St George for the first time after being out of power for eight months, signed five files approving the schemes.  "Chief Minister Jayalalithaa has ordered improvement of roads in urban local bodies at a cost of Rs 1000 crore," a state government release said.
The AIADMK Chief also opened 201 more 'AMMA' canteens, providing food at subsidised rates, across the state through video-conferencing.
Under a Rs 800-crore 'Tamil Nadu Rural Roads Development Scheme', 3,500 km road stretch will be taken up for development this fiscal.
"The chief minister has given consent for a special housing scheme for the poor in town panchayat areas," it said.
An assistance of Rs 2.10 lakh will be given in staggered manner to the poor to convert their thatched houses into concrete roofed structures with solar power.  In the first phase, 20,000 families will be given assistance in town panchayat areas.
Giving a big push for drinking water facility, 1,274 Reverse Osmosis plants will be set in residential neighbourhoods, Amma Canteens, hospitals and public places at Rs 77.13 crore.
This includes providing drinking water facility in 69 neighbourhoods in arid areas of Sivaganga and Ramanathapuram districts.
Under the scheme for indigent families headed by women, loans with a grant component on interest will be provided to eligible beneficiaries alongside skill development training with employment opportunities.
Government would spend between Rs 10,000 to Rs 20,000 for development of each beneficiary and the scheme is intended to cover all women-run indigent families in five years.
"While the total outlay for the scheme is Rs 750 crore, the Chief Minister has ordered allocation of Rs 100 crore in the current fiscal for the scheme," the release said.  With just a year to go for Assembly polls, the schemes assume significance.
Parties like PMK have been targeting AIADMK for its 'freebie' schemes like free mixies and grinders accusing it of not focusing on generating employment, developing infrastructure and providing basic amenities.
Later, Jayalalithaa launched a pulses retail sale scheme through 25 cooperative outlets in Chennai as a market intervention measure.
The initiative is part of the government's measures to rein in increasing prices of pulses in the open market, the government said in a release.
In 2011, Jayalalithaa had launched a Price Stabilisation Fund with a corpus of Rs 100 crore with the objective of stabilising market prices and ensuring supply of essential commodities at reasonable prices to the people and fair prices to farmers.
While half kg toor dal will be available for Rs.53.50, same quantity urad dal of "A" category will be available for Rs 56 and B category of its kind will be available for Rs 49.50 in cooperative outlets here.
The pulses for the scheme will be procured from the National Agricultural Cooperative Marketing Federation of India and the National Cooperative Consumers Federation of India (NCCF).