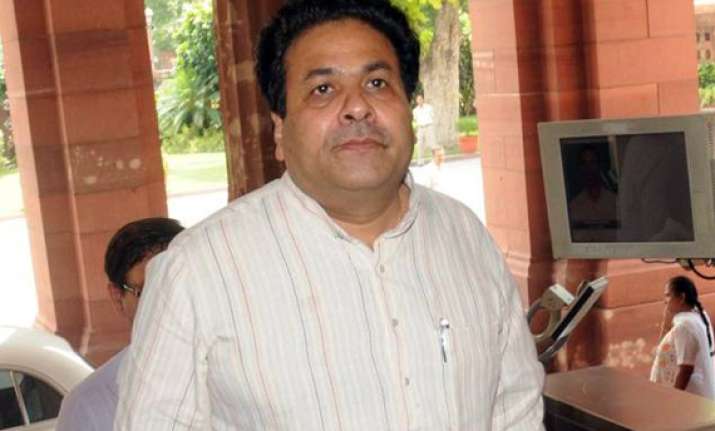 New Delhi, June 1: Coming to the defence of Union Minister and IPL Commissioner Rajiv Shukla over spotfixing- betting scandal that has rocked the T20 league, Congress on Friday said it was wrong to paint him and BCCI Chairman N Srinivasan with the same brush.
Replying to queries, party spokesperson Meem Afzal said, "It is not proper to paint Shukla and Srinivasan with the same brush. No relative of Rajiv Shukla is involved in all this. There is nothing prima facie against him (Shukla)".
On whether the alleged "inaction" by Shukla in this matter has not hurt the image of cricket, Afzal said the image of cricket was not hurt due to the conduct of the IPL Commissioner but because of some players against whom action is being taken.
Asked if Pawan Kumar Bansal was to resign from the Railway Ministry over the CBI case against his nephew as "there was something prima facie against the minister", Afzal said, "I believe that he resigned because he felt that there was something prima facie. The party did nothing. The party had nothing to do with that."
Afzal also said that an investigation has already commenced into the IPL matter and it should be completed.
"If the investigation brings out something against anybody, whoever he or she is will not be spared. Strict action should be taken on the findings of the investigations," the Congress spokesperson said.
He also described as "personal opinion" the remarks made by some Congress ministers in favour or against Srinivasan
"Congress party has nothing to say it on now. There is a system for these things. Whatever some leaders have said can be their personal opinions," Afzal said.
He also disagreed with the suggestions in some quarters that politicians should not be joining sports bodies.
"Separating sports and politics does not mean separating politicians from sports or sportspersons from politicians," he said.