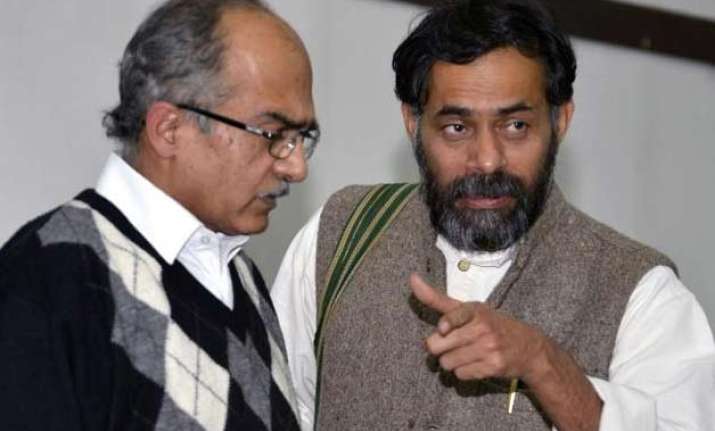 New Delhi: Senior Aam Aadmi Party (AAP) leader Prashant Bhushan and Yogendra Yadav have said that invitation to party MLAs for National Council meeting is 'illogical and irregular'.
Bhushan said that most of the MLAs are not members of National Council but they were asked to be present in the Saturday's meet.
"I understand that you have invited all the MLAs of the Delhi Assembly of the NC meeting, even though most of them are not members of the NC. You have, however, not invited even state conveners who have been appointed under the 'Mission Vistar' process. All this is totally illogical and irregular," Bhushan said in a letter to party secretary Pankaj Gupta on Friday morning.
ALSO READ: AAP dissident camp may move 7 resolutions at NC meeting today
This came after a petition signed by 58 MLAs seeking removal of Yadav and Bhushan was included in the agenda for today's meet and also sent to Delhi Chief Minister Arvind Kejriwal. AAP's media-in-charge Deepak Bajpai confirmed the letter had been sent to Kejriwal. 
AAP MLA and vice-chairman of Delhi Jal Board Kapil Mishra said that the demand for removal of duo was added to the agenda on Friday, just a day ahead of the crucial NC meet.
The national council of the AAP will meet today in the capital. Today's meeting is likely to be explosive as a sting tape involving Kejriwal surfaced yesterday. Kejriwal could be heard allegedly using abusive language against Yadav and Bhushan in the tape. 
Yesterday, Bhushan and Yadav branded Kejriwal an autocrat surrounded by "yes men" and accused him of deviating from the party's ideals. The Kejriwal camp instantly hit back accusing the two men of having tried to sabotage the party in the run up to the Delhi polls last month which it won handsomely.