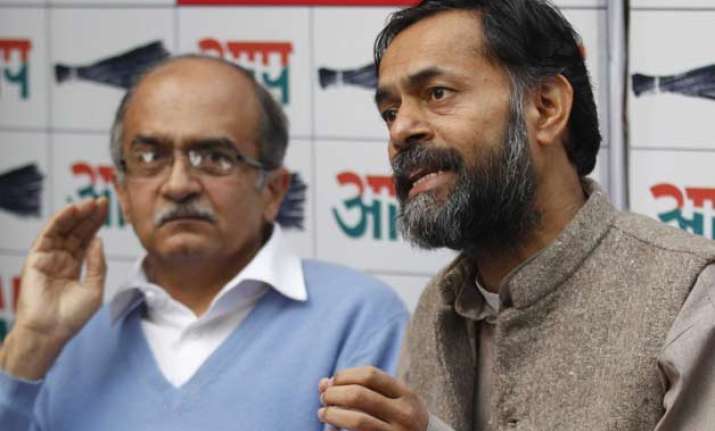 New Delhi: Members of national council (NC) and other office-bearers of different wings of Aam Aadmi Party (AAP) have decided to move seven resolutions, most of them mirroring the demands made by dissident leaders Prashant Bhushan and Yogendra Yadav. 
An informal meeting of AAP national council members held at YMCA yesterday was attended by almost 75 members and other office-bearers and came out with a 7-point 'agenda' that would be put forward today when the national council meets.
READ MORE: Another sting of Kejriwal surfaces, Delhi CM heard abusing Yadav and Bhushan
"After two hours of meeting, we came to conclusion that there are at least seven points that would need first and foremost attention during the meeting," said a national council member urging not to mention his name. 
"First- AAP should be brought in the ambit of RTI voluntarily. Second- Current Lokpal of the party Admiral Ramdas should chair the meeting. Third- AAP should constitute a committee to work on the lines of Election Commission including the selection of candidates. Fourth- state-level decisions of the party should be left to state executive bodies. Fifth- party should expand its wings in those state where election are going to be held in near future. Sixth- voting right ought to be given to active volunteers also. Seventh- amendments made in the constitution of the party on 2014 should be repealed," the leader added. 
READ MORE: Prashant Bhushan & Yogendra Yadav may be ousted at AAP meet
The meeting was marred by controversies as a few members termed it as 'anti-party activities' and said that these people are the "agents" of the other parties and personalities who are 'hell bent to destabilise' the party. 
"You are those guys who have been involved in anti-party activities and one person has fought an election against AAP candidate. We won't tolerate such activities that goes against Kejriwal and his party," said an angry national council member in the meeting whose voice was clearly audible from outside the chamber. 
Later, the angry member was accompanied by a few other persons and boycotted the further proceedings.
Asked what was the need and urgency to hold a meeting before national council meeting, national council member Prahlad Pandey said, "We wanted the national council meeting to be held for three days. But it is one-day event. Hence we did a rehearsal of the meeting so that we can conclude the meeting tomorrow smoothly without any hassle."