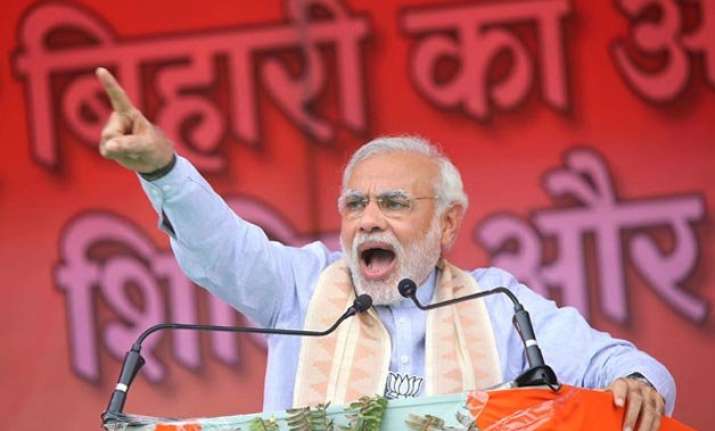 New Delhi: The Bharatiya Janata Party (BJP) is contesting Bihar Assembly polls under the leadership of Prime Minister Narendra Modi.
Likewise Maharashtra, Haryana, Jharkhand and Jammu and Kashmir Assembly polls, the party opt not to declare anyone as its chief ministerial candidate.
The three partners of the BJP -- Ram Vilas Paswan's LJP, Jitan Ram Manjhi's and Upendra Kushwaha's Rashtriya Lok Samata Party - are also banking on Modi wave to cross the magic figure in the state.
The state has so far witnessed three rounds of polling. The remaining two phases polling will be held on November 1 and 5 with announcement of results slated for November 8.
PM Modi has so far done a dozen of rallies in the state. India TV brings to you top quotes of PM Modi from his rallies he has addressed so far:
1) Gopalganj 
"Nitishji says, we want old days back; do you want old days of atrocities against dalits, kidnappings, rapes, murders? They are so desperate now that they have resorted to tantriks. You can get a hundred Tantriks but it will not help."
2) Sitamarhi
"RJD, JD(U) and Congress joined hands to form the Mahagathbandhan. Why did Nitish Kumar find a song from movie 3 Idiots only. You have to decide who to trust for your future. If there is anything that can change your future, it is development. On the one hand there is development, and on the other there is opportunism."
3) Buxar 
"I come from an extremely backward class and understand the pain of having been born to a poor woman. I will not allow this to happen. I pledge to protect the rights of dalits, mahadalits and backwards, even if it means sacrificing my life." 
4) Nalanda 
"For the first time I came to know there is also a fourth player, a tantrik. Bihar needs to be freed from this mindset of 18th century. We do not need jantar Mantar, we need computers. Our youths should have laptops in their hand and no taaveej".
5) Chhapra 
"Laluji, if you have to rename your party Rashtriya Janta Dal as Rashtriya Jadu Tona Party (party of occult practices) and being the head of the party, you will be the biggest 'tantrik' in the world".
6) Aurangabad 
"The Grand Alliance in Bihar is a 'Mahaswarth Bandhan'. They ruled Bihar for 60 years but they did not create jobs. Lalu Prasad, Nitish Kumar and Sonia Gandhi did not give accounts of what they had done for Bihar in the past 60 years. They are accountable to the people of Bihar".
7) Sasaram 
" They (Lalu and Nitish) sit with the dictionary in the morning to look for abusive words. Even the dictionaries have exhausted. Now they have opened a 'factory of abuses' for me".
8) Jehanabad
"Their act of spreading the poison of caste did not work. They are not being able to digest how could a tea-seller from the EBC become Prime Minister. That is why they are abusing me day and night."
9) Samstipur
"I was born in Gujarat. It is the land where Mahatma Gandhi was born. This is the land where Shri Krishna founded Dwarkadhish. Yaduvanshis had given India the white revolution. See how a leader insulted the Yaduvansh".
10) Begusarai 
"Sadly, many polls were fought in the name of poor but nothing was done for the poor. Before you vote, ask yourselves - have they (Nitish, Lalu, Sonia) done anything for Bihar for 60 years?"