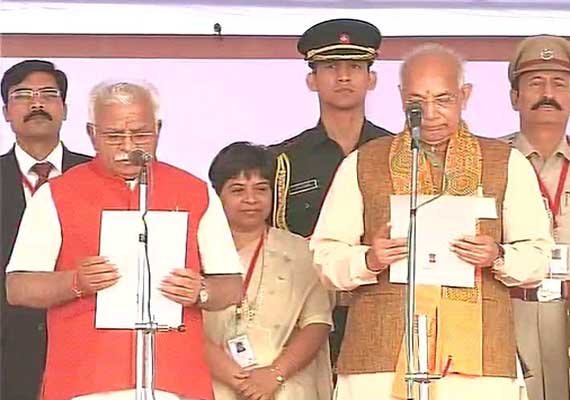 New Delhi: Manohar Lal Khattar, mentored by RSS and known for his organisational skills and clean image, today took oath as Haryana Chief Minister, leading the first BJP government in the state since it was created 48 years ago.
Prime Minister Narendra Modi, with whom 60-year-old Khattar shares proximity, BJP President Amit Shah, Union Ministers, veteran leaders L K Advani and Murli Manohar Joshi and Chief Ministers of four BJP ruled states were present as the ten-member ministry was sworn in at a ceremony here by Governor Kaptan Singh Solanki.
A first time MLA, Khattar, who has a four-decade-long association with Rashtriya Swayamsevak Sangh (RSS) and BJP, is the first Punjabi to become the Chief Minister of the state.