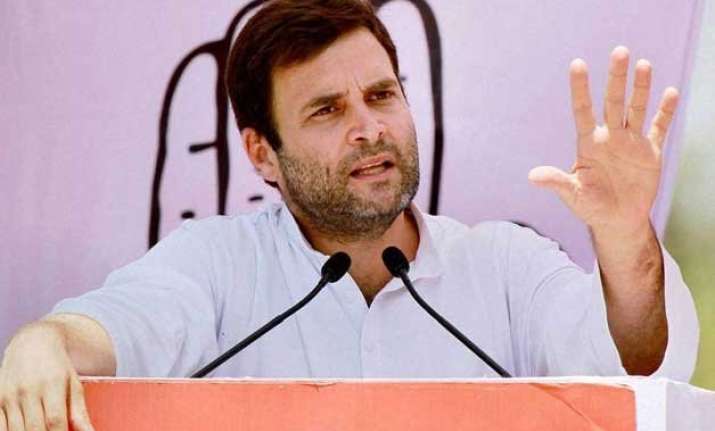 Mahoba (Uttar Pradesh): Congress vice president Rahul Gandhi today hit out at Prime Minister Narendra Modi at a public meeting in Mahoba district in Bundelkhand, saying 'he ignored the welfare of farmers over industrialists'.
"I will speak in Parliament on how this government is treating the farmers of the country," Rahul, who began his 7 km padhyatra of drought-hit Bundelkhand from Mahoba, said.
Bundelkhand region, home to 18.3 million people as per the 2011 census, is blighted with drought and unseasonable rains that has destroyed standing winter crops.
In the past few years, several farmers have committed suicide due to poor crop production in 13 districts that comprise the region.
The promised compensation by Uttar Pradesh government has not trickled down to those who need them the most. With no money for seeds and no water for irrigation, farmers have gone desperate, local leaders alleged.
With Opposition parties getting active in Bundelkhand region of Uttar Pradesh in run up to the 2017 Assembly polls, Chief Minister Akhilesh Yadav has said his government would make necessary efforts to address the issues the area confronts.
After a Cabinet meeting on Monday, Yadav had said Chief Secretary Alok Ranjan recently visited the region to take stock of the developmental scheme and he himself would visit Bundelkhand.
"We have taken a decision on the works to be carried out under MNREGA... In coming times, I'll also visit Bundelkhand. My government will help the region in every possible way," he said.
Over a month back, Rahul had visited western UP to interact with sugarcane growers hit hard due to failure of sugar mills to give their dues. The Congress viec president during his tour will also hold a meeting with the mahila self-help group at Supa railway station and farmers in Laadpur village.
With Agency Inputs