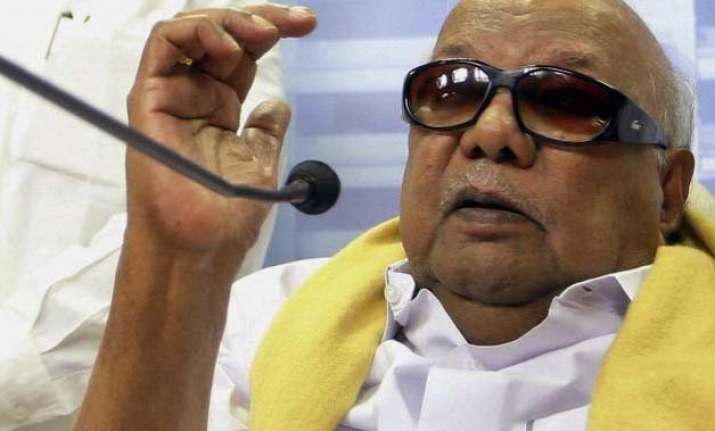 Chennai: Slamming IIT Madras for its decision to derecognise a students' body for alleged violation of code of conduct, DMK today sought Prime Minister Narendra Modi's "direct intervention" in revoking the order to ensure that "peace" returned in the premier technical institute.
Party chief M Karunanidhi said that based on an "anonymous" letter, the HRD Ministry had "sidestepped natural justice" of seeking explanation from persons concerned and banned the group which amounts to "stifling" freedom of expression.
Without naming Union HRD Minister Smriti Irani, he said that "unilateral" and "authoritarian" interference by Modi's ministers on such issues will impact both the youth of the country and the nation's peace.
"Though it seems that Prime Minister Modi doesn't place importance on needless issues like banning a democratic group, his ministers interfering unilaterally and in an authoritarian manner in such issues will impede youth's thought process and affect the nation's peace," he said.
In a statement here, he called for PM's "direct intervention" to ensure that the derecognition of Ambedkar Periyar Study Circle by IIT Madras authorities was revoked immediately to ensure that peace and a healthy atmosphere prevailed in the institute.
"Because of this incident, the otherwise peacefully functioning institute has turned into a war zone," he said.
Karunanidhi also asked if the AIADMK government, "by not making any explicit statement against the ban and remaining silent," was supporting the Centre on this issue.
He said members of the derecognised Ambedkar Periyar Study Circle had claimed that they were working on progressive issues and those which affected the society.
He also recalled that his party founder, late C N Annadurai, had as early as in 1947 advocated for participation of students cutting across political lines to work for propagating rationalism.
IIT Madras had come under criticism on Friday for derecognising the students' body for allegedly violating the code of conduct.