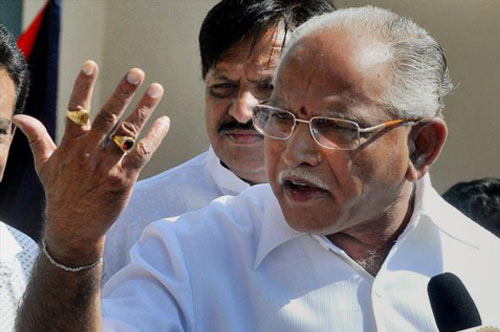 BANGALORE: Chief minister B S Yeddyurappa has taken the forthcoming zilla and taluk panchayat elections as a challenge to 'teach' the opposition parties a lesson and please the BJP high command.
Reaching Bangalore from New Delhi on Wednesday after saving his chief-ministership, Yeddyurappa declared his immediate priority is to focus on development and ensure the party's victory at the ZP/TP poll. Hundreds of party workers had gathered at the airport and at his Race Course residence to welcome him with music and flowers.
The CM admitted he had learnt a lesson from the recent developments and he would be careful in future. Thanking people and pontiffs who stood by him, he said, "People, pontiffs and our national leaders supported me. I am grateful for their love. I will strive harder to win their love and confidence. I will concentrate more on development and transparency."
He continued to maintain that the opposition parties had hurled unnecessary accusations against him. "At least, from now on, let them focus on their responsibilities. Let them stop their conspiracies. I will give them an answer at an appropriate time," he said and vowed again that he would fight to eliminate the JD(S) from the state's political scene.
He said that he would complete the remaining two and a half years term and also ensure the BJP gets at least 150 seats in the next assembly elections.