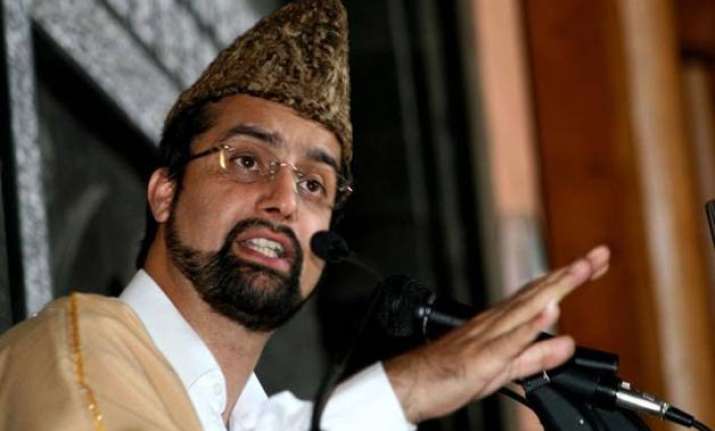 Srinagar: Authorities today place Moderate Hurriyat Conference chairman Mirwaiz Umar Farooq under house arrest to prevent him from attending a rally proposed for tomorrow to commemorate the death anniversary of his father, who was assassinated in 1990.
"Mirwaiz was placed under house arrest this morning, thus preventing him from attending Hafta Shahadat (martyrdom week) programme," a Hurriyat spokesman said here. "It is state-sponsored terrorism and an example of aggressive politics. 
When Kashmiris were peacefully organizing Hafta Shahadat to remember martyrs, placing the Mirwaiz under house arrest was akin to rubbing salt over wounds of Kashmiris and playing with their emotions," the spokesman said.  
The moderate Hurriyat Conference had planned a rally at Eidgah to pay tributes to Mirwaiz's father Moulvi Mohammad Farooq and Hurriyat leader Abdul Gani Lone on their death anniversary tomorrow.
While Farooq was shot dead by militants on May 21, 1990, Lone fell to the bullets of ultras during a commemoration rally for the former on the same day in 2002.  Despite him being place under house arrest, Hurriyat activists today organized a rally from Mirwaiz Manzil at Rajouri Kadal in downtown area of the city.  
While adressing the rally over phone, Mirwaiz termed his house arrest as the "worst form of dictatorial politics".  "Once again the government violated basic human and democratic codes," he said.
He appealed the people to observe a complete strike tomorrow and march towards Eidgah.
Meanwhile, Pakistani flags were hoisted at some place in downtown, including at Jamia Masjid, where Mirwaiz delivers Friday sermon, during the rally.