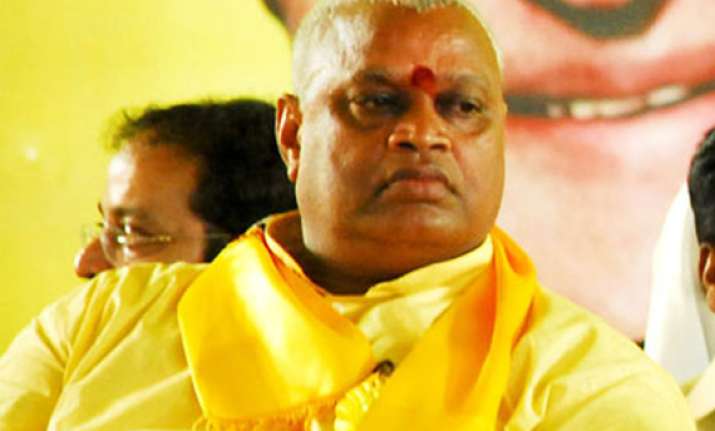 Hyderabad, Nov 3: Hundreds of people paid their last respects to Telugu Desam Party (TDP) leader and former union minister K. Yerran Naidu, who was cremated in his native Srikakulam district Saturday.
The last rites of Naidu, who died in a road accident Friday, were performed with state honors at his Nimmada village in Srikakulam district of north coastal Andhra, about 700 km from here.
Yerran Naidu's son K. Rammohan lit the funeral pyre, while the police presented a gun-salute.
TDP chief N. Chandrababu Naidu, his son N. Lokesh, TDP founder NTR's sons Harikrishna, Balakrishna, top leaders of the party and scores of activists bid tearful adieu to Yerran Naidu, who was politburo member of the party.
People from various parts of Srikakulam and surrounding districts descended on the village, about 30 km from Srikakulam town, to pay their last respects.
The 55-year-old leader was killed in the early hours of Friday when the car in which he was travelling hit an oil tanker near Ranasthalam on Visakhapatnam-Srikakulam highway. Four others including the driver were injured.
Health Minister D.L. Ravindra Reddy told reporters in Hyderabad that the preliminary investigations revealed that 108 ambulance that carried Naidu to hospital had no oxygen facility.
The health authorities have come under criticism from TDP leaders, who alleged that Naidu could not be saved as the ambulance which shifted him from accident scene to the hospital in Srikakulam had no oxygen or ventilator facility.