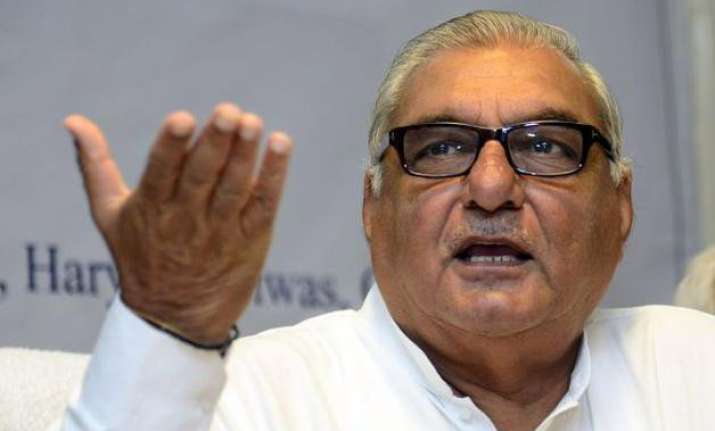 Rohtak: Two times former Haryana Chief Minister Bhupinder Singh Hooda along with his supporters will take to streets to highlight alleged anti-people policies of the Manohar Lal Khattar-led BJP government in the state.
"I will launch a 'jansampark abhiyan' from Kandela village in Jind district of Haryana from May 31," Hooda said here.
He said that the objective of his campaign is to highlight the achievements of the previous Congress government in the state which ruled Haryana for ten years in succession and anti-people policies of the newly formed BJP government.
He lashed out at the Khattar government for allegedly taking credit for the schemes and programmes that took place during the previous Congress regime headed by him.
Refusing to divulge the details of his campaign, he said all decisions will be taken on May 31.
He accused the Narendra Modi government at the Centre of allegedly failing to take steps on issues of black money and depositing Rs 15 lakh in each account holder under Jandhan Yojana.
Lambasting the state government for allegedly failing to keep promises it made in its election manifesto last year,
Hooda questioned the BJP-led Haryana government about the decisions taken by it on disbursal of old age pension, unemployment allowance, 24-hour power supply.
He said that many units of thermal plants in the state had been shut down. "We will stage dharnas against around plants to press the government to start these so that people in Haryana can get sufficient electricity supply," he said.
He alleged that a "major scandal" is taking place in the state in the name of 'girdwari' (revenue assessment) of fields of farmers where crops were destroyed due to inclement weather recently.
On being asked whether Haryana Congress president Ashok Tanwar will also accompany him, Hooda said, "All party workers are welcome to join him in his fight against the Khattar government" and asserted that the Haryana unit of Congress is united.