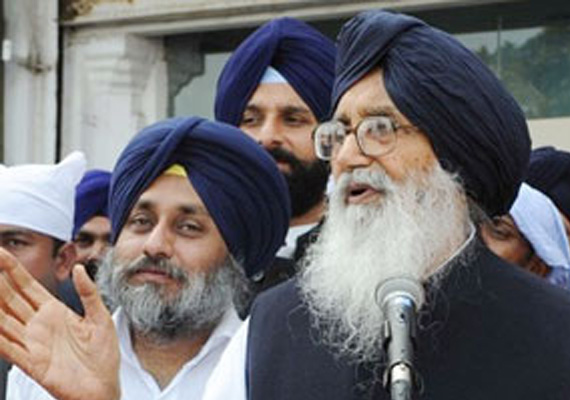 Bathinda, July 27: Punjab Chief Minister Parkash Singh Badal Friday reacted sharply to Haryana Chief Minister Bhupinder Singh Hooda's claim over Chandigarh, saying that his statements were "just to gain cheap popularity".
Dismissing his Haryana counterpart's "unwarranted hype", Badal said: "Hooda must realize that Punjab being the parent state has the first and foremost legitimate right over the city as its capital".
"The Haryana chief minister should desist from making such hollow statements just to gain cheap popularity in media," Badal told reporters here, 240 km from Chandigarh.
"Before unnecessarily raking up this contentious issue time and again just to score points, Mr. Hooda must remember that even Haryana had been carved out from Punjab after reorganization on Nov 1, 1966, so there was hardly any substance in his claim over Chandigarh," Badal said.
"Chandigarh is an integral part of Punjab and none other, except it, could stake claim over it as capital," he asserted.
Hooda Thursday said that the area on which Chandigarh was built was earlier part of Ambala district, now in Haryana, and wondered on what basis Punjab was staking a claim to Chandigarh.
"They are claiming Chandigarh on the basis of Chandigarh being the capital of the erstwhile Punjab. If that is the basis of their argument, then Lahore and Shimla too have been the capitals of Punjab. Why don't they stake a claim on Lahore and Shimla also?" he asked.
Hooda's remarks came following a statement by Punjab Deputy Chief Minister Sukhbir Singh Badal that Chandigarh belonged to Punjab and that Haryana should leave it.
Chandigarh, a union territory spread over 114 sq km, is the joint capital of both Punjab and Haryana.
After Partition in 1947, there was need to develop a new capital for the state of Punjab, as Lahore, its earlier capital, went to Pakistan.
India's first prime minister Jawaharlal Nehru commissioned famed French architect Le Corbusier to design a city that would be forward-looking, so that a new chapter could be written that did not look back on a painful history. Work on Chandigarh began in the 1950s.
Hooda recently objected to Punjab coming up with a new town near Chandigarh, and naming it New Chandigarh.
"Chandigarh is a brand name, and one should not copy it. That is completely unethical," he had said.
The name Chandigarh or fort of Chandi is drawn from the Chandi Mandir, the ancient temple dedicated to goddess Chandi near the city.