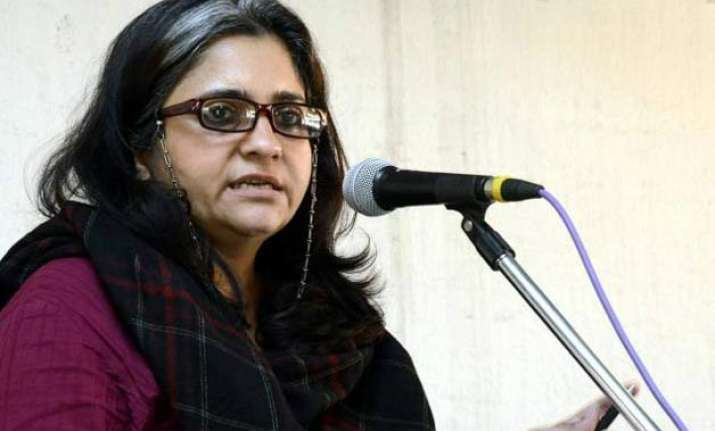 New Delhi: The Union Home Ministry is bracing itself for strict action against Teesta Setalvad's Sabrang Trust for receiving funds from Ford Foundation and diverting it to Sabrang Communication and Publishing Pvt Limited which does not have a FCRA registration.
Ford Foundation, donor of Setalvad's NGO has already been put under home ministry's watchlist for violating Foreign Contribution Regulation Act (FCRA).
Sabrang Trust which received a $2.9 lakh grant from Ford Foundation may be asked to seek prior permission for funding from all its foreign sources, or even face suspension of its FCRA registration.
According to a Times of India report, home ministry is still debating over the nature of the action that is to be taken against Sabrang Trust for violating FCRA provisions by utilizing funds for purposes other than that permitted by the donor.
The report quoted a senior home ministry official saying that the Gujarat government's accusations against the NGO of "direct interference ... in the internal affairs of the country and also abetting communal disharmony in India" were serious enough to consider suspension of its FCRA certificate. The government may invoke the rarely-used Section 11(3) (iv) of the FCRA, 2010, mandating prior clearance of its funding, irrespective of the foreign source.
The MHA had inspected the accounts of Sabrang Trust and Citizens for Justice & Peace after Gujarat government wrote to it alleging "serious" FCRA violations by the two NGOs. These include utilization of over 50% of foreign contribution from Ford Foundation for office expenses.
In a related matter, thirty-three MPs have written to Home Minister Rajnath Singh, saying the "selective targeting" of persons should end.
The signatories to the petition, including Sitaram Yechury, D Raja, Mohd Salim, Ram Gopal Yadav and K C Tyagi, said targeting of Setalvad is a "vindicative attempt" to silence the voice of justice for the Gujarat riot victims.