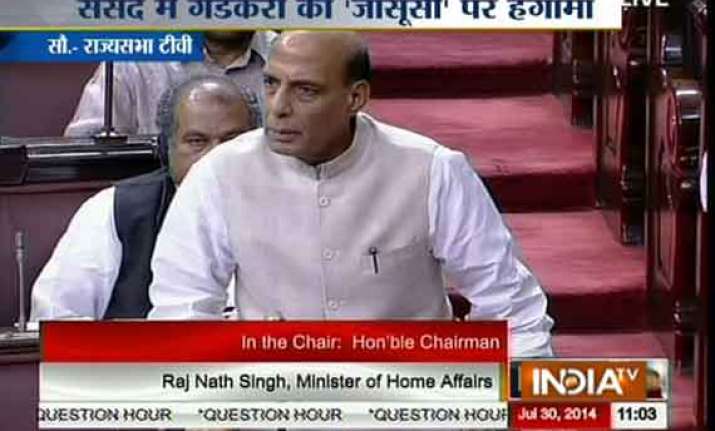 New Delhi: Home Minister Rajnath Singh today completely denied media reports of bugging devices being found from the residence of union minister Nitin Gadkari.
Making a statement in the Rajya Sabha, Rajnath Singh said that Nitin Gadkari himself has denied these reports and therefore all such media reports  are baseless and completely devoid of truth.
"There is no truth in media reports," he said. "The minister too has termed the reports as baseless and factually incorrect," the Home Minister said, adding no high powered listening device was found.
Agitated opposition members were not satisfied with home minister's reply and they kept raising slogans. The house was adjourned for 15 minutes amid the din. The ruckus continued even after the house reassembled and the chairman Hamid Ansari adjourned the housefirst up to 12 noon and then up to 2pm.
The opposition Congress along with its JD(U) and SP raised the bugging issue involving the house of Union minister Nitin Gadkari in both houses of parliament today. According to media reports, bugging devices were recovered from the residence of Union Minister Nitin gadkari although the minister himself has denied all these reports. Even the ruling BJP is silent on this issue.
Apart from Congress, JD(U) and Samajwadi Party asked  the speaker to suspend the question hour and allow a discussion on this issue under Rule 176.
While Gadkari himself has denied any bugging devices being recovered from his house, senior BJP leader Subramanian Swamy confirmed the incident and went to the extent of saying that these devices were planted during UPA II regime.
Some media reports have also alleged that it was UPA govt which allowed the US agencies to snoop on senior BJP leaders although Congress has completely denied such reports.