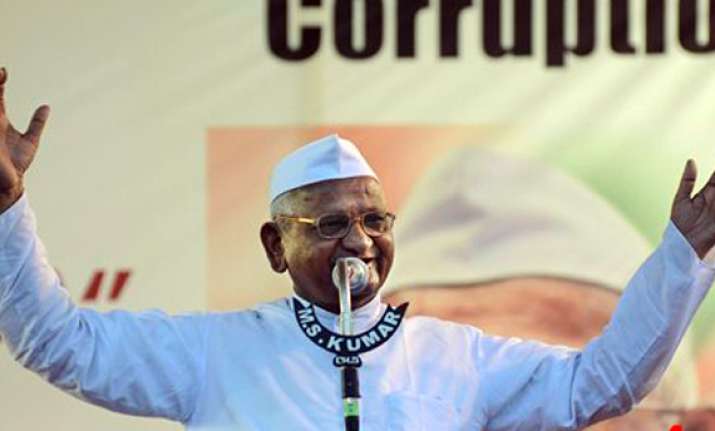 Mumbai, Dec 20: Maharashtra Pradesh Congress Committee (MPCC) today that the proposed fast by anti-corruption crusader Anna Hazare in the city when elections to 10 municipal corporations are scheduled to be held, will have no impact on the prospects of the party at the hustings.

MPCC spokesman Anant Gadgil said when Hazare launched his anti-graft movement for the first time, many people supported him because they felt it was an agitation against the menace of corruption.

"It is now becoming increasingly clear that the agenda is anti-Congress and not against corruption. The recent municipal council elections results in the state prove that Hazare has had no effect on the prospects of the Congress and NCP. Even in Hazare's home district of Ahmednagar, Congress and NCP did exceedingly well in the elections," Gadgil pointed out.

He charged that people now know the real reason behind the anti-corruption agitation.

"It has been fuelled and backed by people belonging to a particular ideology," Gadgil said.

Asked about MNS chief Raj Thackeray's comment that Marathi speaking people in Belgaum and other areas should give up the thought of merger with Maharashtra, Gadgil said the statement was "laughable".

"MNS legislators supported the unanimous resolution in the legislature demanding that Belgaum be made a Union Territory till the issue is resolved. It looks like there is lack of communication between the leadership and the workers," he said.

Congress is of the firm view that the dissolution of the Belgaum municipality was "anti-constitutional", he said.

Addressing a press conference earlier, Gadgil said MPCC and the Mumbai unit of the Congress is organising the 150th birth anniversary of towering party personalities Pandit Motilal Nehru and Pandit Madan Mohan Malviya.

A meeting on 'Congress tradition and Pandit Madan Mohan Malviya' will be held at the Tejpal Hall opposite the August Kranti Maidan in South Mumbai on December 24.

Later next month, a function to mark the anniversary of Pandit Motilal Nehru would be held in Pune.

"We are planning round the year programmes to commemorate these two personalities whose contribution in the field of social and educational field is immense. Through such programmes, we want to create awareness about their contribution to the present day generation," Gadgil said.

A 26-member committee headed by state unit chief Manikrao Thakre has been constituted to plan the programmes.