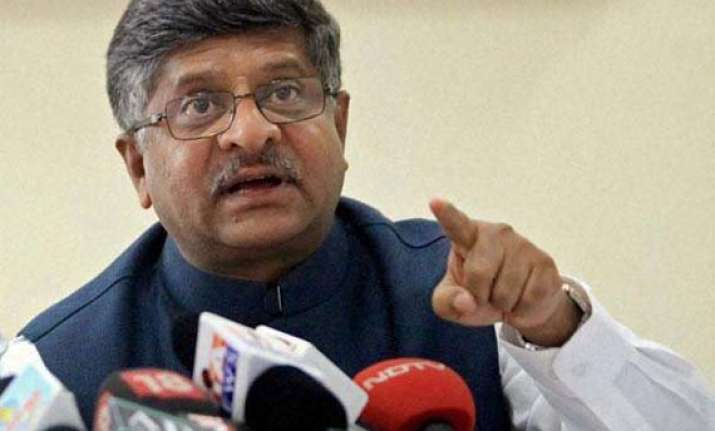 New Delhi: After Election Commission rejected its complaint against Haryana government on Robert Vadra's land deal, BJP today charged the Bhupinder Singh Hooda government with not presenting full facts of the case before the poll panel.
The party also charged the Haryana government with "speaking in two voices" in the case and hiding full facts in their haste to grant all approvals to Sonia Gandhi's son-in-law before the Congress government was voted out of power.
"I am constrained to observe that in view of the highly suspicious circumstances a very legitimate conclusion can be drawn that all the facts perhaps they have not disclosed to the Election Commission after BJP made a complaint," Law Minister Ravi Shankar Prasad told reporters here.  
He said no one in the world could justify that a Rs 7.5 crore land could turn into a Rs 58 crore deal within a few months, alleging that Vadra's company Skylite Hospitality had not only sold the land but also the licence for developing a colony granted to it by Haryana government.  
"Haryana government knew that they are losing out and that is why they tried to validate this land deal.
But truth has a very uncanny habit fo appearing and reappearing, at times with conclusive evidence," he said while reading out letters of Haryana Financial Commissioner to EC and that of Gurgaon Deputy Commissioner on July 16, and charged Haryana government of "speaking in two voices" on ownership of Vadra's land.  
"The BJP would like to know that when the Financial Commissioner of Haryana furnished a report to the EC, why they were conspicuously silent about the order No 1684-86 of July 16 by the Deputy Commissioner, Gurgaon," he said.  
BJP had petitioned the EC alleging that there was violation of the Model Code of Conduct by Haryana government in clearing the land deal between Robert Vadra and real estate major DLF, which was rejected by the poll body yesterday.
"I can only assure you that as Rajasthan government is doing, surely a fair, effective and transparent inquiry will be done in the case of Haryana with adequate results," Prasad said.
Seeking to keep the Vadra land deal alive ahead of Assembly elections in Haryana, the BJP leader questioned the state government on breaking norms of hierarchy as a junior officer like deputy commissioner was annulling orders of his senior officers and was marking letters directly to Chief Secretary and Additional Chief Secretary.  
He also alleged that it was surprising that the licence was also being sold and not just land by Vadra's company and sweat equity was given a legal shape.  
Attacking Hooda, he said, "Why a Chief Minister is mortgaging all the conscience and propriety of governance by abusing authority by sacrificing bureaucratic hierarchy."
Citing the probe in Rajasthan, Prasad said after detailed investigations by the Tehsildar, Land Records in Bikaner, three FIRs have been registered on August 26 and four revenue officers have been suspended in the light of the report.