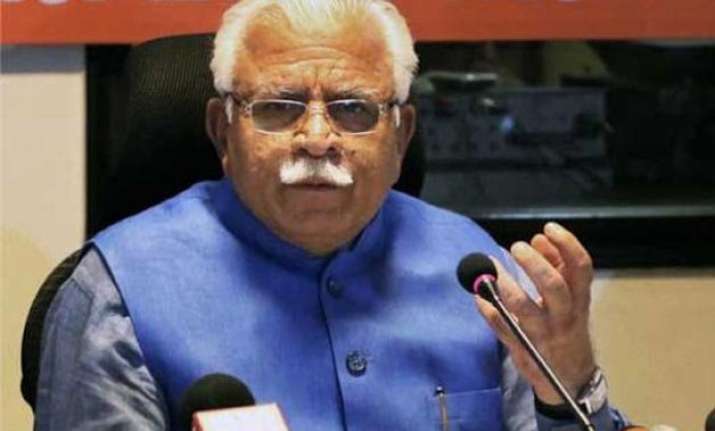 Kaithal: Haryana Chief Minister Manohar Lal Khattar today announced a number of sops for Scheduled Caste people in the state, including laptops for girls and a Sanskrit University to be named after Maharishi Valmiki.
CM Khattar made the announcements during an address at Bhagwan Valmiki Prakat Diwas Samaroh, being celebrated as Samrasta Diwas, here.
Paying tributes to Valmiki, he said that a Sanskrit University will be set up in Mundri village here which will be named after the Sanskrit poet.
Khattar also announced of organising state-level functions to commemorate the anniversaries of three great saints - Maharishi Valmiki, Sant Kabir and Sant Ravidas - from next year.
The Chief Minister said that awards in the field of education, literature and sports would be instituted in the names of the three great saints.
Khattar announced that Government Residential Senior Secondary Schools would be opened at each district headquarters in the state to impart quality education to the students.
A grant of Rs five crore each to three Assembly segments of the district - Kaithal, Kalayat and Guhla - for various development works was announced by him, besides giving approval for the widening of eight kms road at Cheeka.
He said that to enable the children of Scheduled Caste families to get quality education, the state government has decided to provide relaxation of 10 per cent marks in the eligibility criteria for getting scholarship under Dr Ambedkar Medhavi Chhattar Yojna.
"We will also provide laptops to the girl students belonging to Scheduled Caste families," he added.
Continuing further, he said, "When he took over the reins of the State Government one year back, the society was divided in the name of regionalism, caste and creed, rich and poor and educated and uneducated. But, we took this challenge and worked with the spirit of 'Haryana Ek-Haryanvi Ek' to usher in a new era of development and prosperity by taking along the people belonging to all sections and regions of the society."
He made it clear that now nobody would be allowed to take "undue political gains by dividing the people in the name of caste, creed and region."
Describing the empowerment of the poor and downtrodden as the "foremost priority" of the BJP government in the state, which completes one year in office on Monday, the Chief Minister said that opportunities would be first made available to those who are socially and economically backward owing to any reasons. For this, new schemes and programmes were being implemented, he added.
CM Khattar blamed the previous government for the problem of backlog in reserved government jobs. "We will not only clear the backlog, but also create opportunities so that youth of this community (SCs) could get more jobs," he said.
Earlier, the Chief Minister inaugurated and laid the foundation stone of six development projects costing about Rs 25 crore.
On this occasion, he also announced to give Rs 20 lakh each for the construction of Valmiki Bhawan, Karnal and Valmiki Sadan at Panchkula.
Speaking on the occasion, BJP's Ambala MP, Ratan Lal Kataria claimed that leaders of Congress party were shedding crocodile tears on the incident of Sunped in district Faridabad.
"They have nothing to do with the welfare of people belonging to Scheduled Castes..they are only shedding crocodile tears. Where were these leaders at the time of Mirchpur incident (in Hisar)," Kataria questioned.
Haryana's Minister of State for Social Justice and Empowerment and convener of the function, Krishan Kumar said that "it is the first time in the history of the state that Maharishi Valmiki Prakat Diwas Samaroh and Samrasta Diwas is being celebrated as a festival in the state".
Notably, the BJP government in Haryana has come under flak from various quarters over Faridabad's Sunped village and Gohana incident, involving deaths of two Dalit children and a Dalit youth.
Meanwhile, addressing the people after inaugurating the 'Pashu Vigyan Mela' at village Keorak in district Kaithal today, Khattar announced to set up Regional Centre of Lala Lajpat Rai Veterinary Animal Sciences University, Hisar at village Keorak, which has been adopted by him.
He also announced to develop Kotikuta Tirath situated in the village at a cost of Rs five crore and said that veterinary hospitals would be set up in villages having population of more than 5,000.
The Chief Minister said that as the land holding is shrinking, the farmers should adopt agri-allied activities like bee-keeping, fish farming etc so as to increase their income.
He said that out of about 22 lakh farmers in the state, 17 lakh farmers have less than two acres of agricultural land.