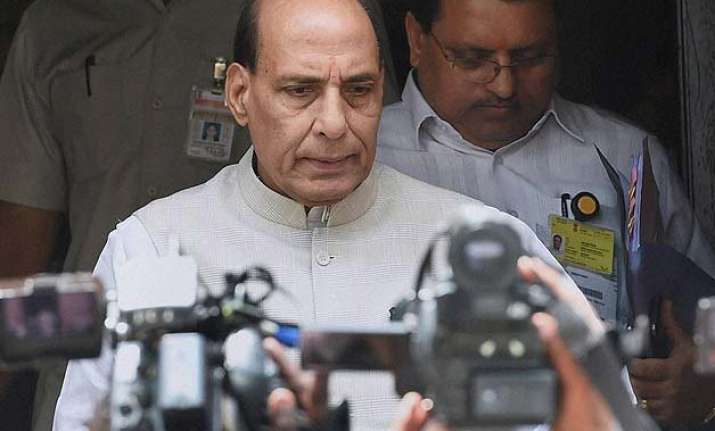 New Delhi:  Union Home Minister Rajnath Singh on Thursday said the three terrorosts killed in Dinanagar town in Punjab had infiltrated from Pakistan and warned the neighbouring country that any effort by enemies will meet an effective and forceful response from Indian security forces.
"A preliminary analysis of the Global Positioning System (GPS) data indicates that the terrorists had infiltrated from Pakistan through the area near Tash in Gurdaspur district, where the Ravi river enters Pakistan," Rajnath Singh said in a statement in the Rajya Sabha on the terrorist attack in Dinanagar town in Gurdaspur district of Punjab on July 27.
"It is also suspected that the same terrorists placed five Improvised Explosive Devices on the railway track near village Talwandi between Dinanagar and Jhakoladi which were subsequently defused," Rajnath Singh added.
Pointing fingers before probe is unhealthy: Pakistan on Punjab terror attack
He assured the house that any effort by the enemies of India to undermine its territorial integrity and security or imperil the safety and security of the citizens will meet an effective and forceful response from the country's security forces.
The union home minister further said that the government has been, and will remain resolute in this regard.
"I take this opportunity to assure the house that the government is firmly committed to root out terrorism from India. I also assure the house that the government will do everything possible to prevent cross-border terrorism aimed against India," Rajnath Singh said.
In his statement made amid a din and anti-government slogans by the opposition, Rajnath Singh also lauded the Punjab Police for neutralising the three terrorists.
The union home minister said that the Border Security Force was always on the alert though some terrorist might have succeeded in infiltrating due to heavy rains and swelling of rivers and nullahs on the border.
The House was adjourned till Friday after an uproar by opposition members over the statement.