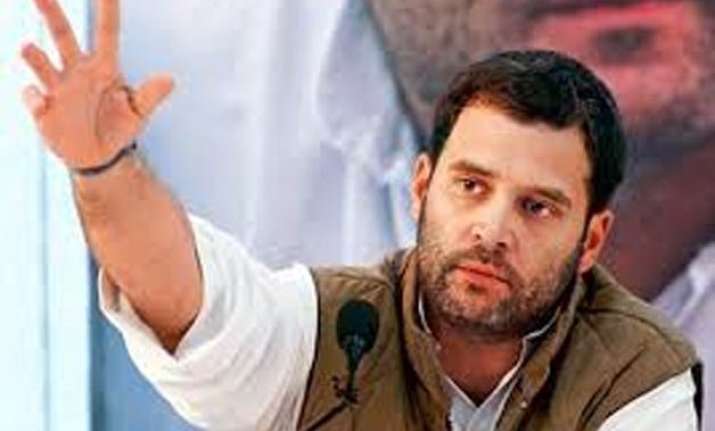 Mumbai: Congress Vice President Rahul Gandhi today said that the Congress party would help pass the Goods and Services Tax (GST) bill in the Rajya Sabha "in 15 minutes" provided that the government acceeded to its demands on the legislation. The crucial piece of policy has been hanging fire in the Upper House of parliament where the ruling BJP does not enjoy a majority.  
Rahul was addressing management students at the NMIMS in Mumbai earlier today. 
Rahul said that a compromise with the government on GST was not off the table but blamed the government of not taking initiative. "A compromise on GST is possible. It is by siting across the table, the government is not taking it," he said. 
"The day the conditions are accepted, we will pass the GST. It will take just 15 minutes," he added.
Asked about roadblocks in implementation of GST bill,Gandhi said, "It was Congress which brought in the GST legislation. The BJP then stopped GST in Parliament for seven years. 
Jaitley then did not allow it to pass. Narendra Modi, as CM of Gujarat, did not allow GST to pass." 
Rahul then went on to justify the Congress party's opposition to the BIll in its current form. "We don't want a GST where there's no cap on taxes. We want a limitation on the maximum tax that can be charged. Also, dispute resolution must be fair and neutral. I don't think its wrong of us to say that," Gandhi said.
 
"Jaitley doesn't have to tell me GST is good. I know its good. He doesn't have to tell me its good," Gandhi said, "Jaitley had earlier said in an interview in England that it was the strategy of BJP to block Parliament. It is not the strategy of Congress to block Parliament," Gandhi said. 
Asked what could the government do to help farmers battling agrarian crisis and deficient rainfall, Gandhi said "We have made a slow transition from agricultural economy to knowledge economy and industry economy."
 
"During UPA regime, we got a backlash on NREGA saying why were we doing this. Agriculture is a problem not just for the farmer but for industry also. When we were in government we had a strategy of supporting the farmers," he said. 
"Agriculture has become volatile. As a nation we have to support this sector. We were firm on giving minimum support price (MSP) to farmers," he said. 
"Sadly our current government has lost its focus. They are focusing not so much on farmers, not so much on agriculture," Gandhi said.
(With PTI inputs)