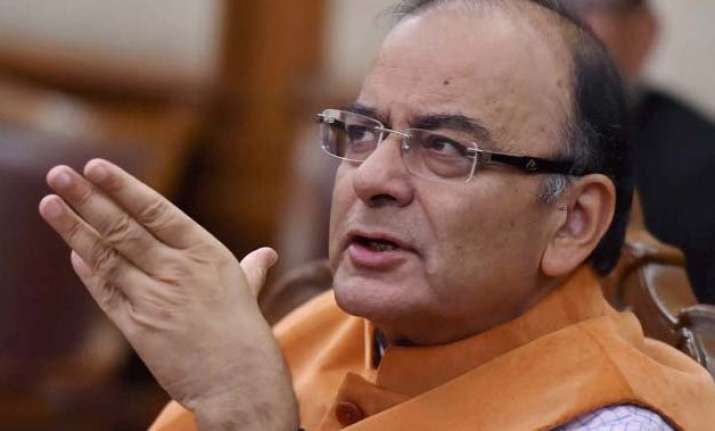 New Delhi: Three days before the Budget Session of Parliament comes to an end, the Narendra Modi government is set to table the Goods and Services Tax (GST) Bill, aimed at reforming of India's indirect tax regime, in the Rajya Sabha today.
The bill was last week passed by the Lok Sabha with a two-thirds majority of the members present and voting as required for a constitutional amendment.
If approved by the Rajya Sabha, the legislation has to be ratified by at least half the number of 29 Indian states, before the President can put his seal of approval for it to take effect.
Finance Minister Arun Jaitley on Saturday said in Mumbai that after implementation of the GST, the states' revenues will increase as economic activity will pick up.
"The entire country will become one market. It will be an economic integration of India," Jaitley said, citing economic benefits like single point of payment of taxes for movement throughout the country.
The main purpose of the GST bill is a unified regime that will subsume most indirect taxes levied by the central and state governments such as excise duty, service tax, value added tax, sales tax and octroi to facilitate a common market across the country.
The Congress, which walked out of the Lok Sabha when the Bill was passed, has said it wants the Bill to be further scrutinised.
"We want to send the GST Bill for further scrutiny," Congress leader Rajeev Shukla said.
"It is a constitution amendment Bill and has to be taken seriously. We have no problem with the Bill otherwise. Let a panel look into it and then it can get passed in the monsoon session (in July-August)," Shukla added.
However, apart from the Left, no other party appears to be supporting the Congress on this.
Communist Party of India-Marxist (CPI-M) leader Sitaram Yechury said the party has no problem if the Bill is referred to a select committee.
"More time is needed to understand the constitution amendment Bill," Yechury said.
Samajwadi Party leader Naresh Agarwal said they were in favour of the Bill as the Uttar Pradesh state government has already given its nod to the Bill.
"Our state government has agreed to the Bill, so we will not oppose it," Agarwal said.
Trinamool Congress Derek O'Brien said his party was opposed to the panel route as this would further delay the Bill.
"GST will safeguard the interest of the states," O'Brien said.
In a House of 245, the government needs 164 votes to get the Bill through - and the numbers thus don't stack up favourably for the BJP.
The BJP has 47 members. With its allies, the number goes upto 63.
The Congress has 68 members, its allies taking the number to 70.
Among the other opposition parties, the TMC, BJD and Janta Parivar members SP, JD-U, and RJD support the Bill, taking the numbers to 112.