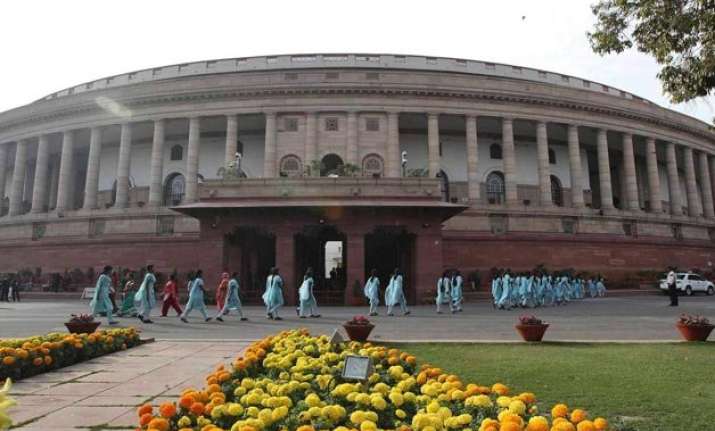 New Delhi: The NDA government is in talks with all political parties to bring them onboard to convene a special session of Parliament in the second week of September for GST Bill passage.
The government, which is in minority in Rajya Sabha, failed to pass the Goods and Services Tax Bill in the Monsoon Session due to continuous uproar by Opposition over Lalitgate and Vyapam scam.
The Cabinet Committee on Parliamentary Affairs (CCPA) at the time of culmination of Monsoon Session had decided against proroguing the Session to keep the option open of calling a special session at short notice to pass the crucial Bill.
Economic Times reported that once the government manages to get the 2/3 majority of those present and voting in the Upper House, the CCPA would be convened to fix the dates.
With Rajya Sabha at present having a total strength of 244, 163 members will constitute a 2/3 majority if all are present and voting.
"The session is likely to be called after the first week of September and will be a two and a half day or three day affair. The GST constitutional amendment Bill will be passed by the Rajya Sabha incorporating some of the amendments suggested by the Opposition and then cleared by the Lok Sabha again in its new form," a senior minister was quoted as saying in the report.
Last week, the Prime Minister had visited Chennai and met AIADMK chief Jayalalithaa and solicited support for the Bill. AIADMK has 11 members and has expressed its opposition saying the state will suffer huge loss as it is a manufacturing state.
Congress, with its 68 members in the Upper House, is the biggest stumbling block in passage of the Bill.
Janata Dal (United), having 12 members, has made it clear that it support the Bill. The other political parties are amenable to supporting the GST Bill.
Government has fixed April 1, 2016 as the deadline for the implementation of the GST Bill, considered as the biggest tax reform since Independence will increase the country's GDP by 1 to 1.5%.