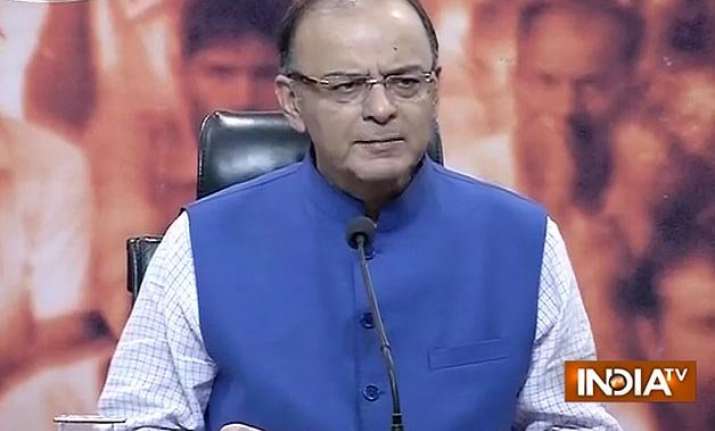 New Delhi:  Finance minister Arun Jaitley today held a press conference in which he held Congress totally responsible for the washout of the Monsoon session of the Parliament.
Attacking Congress for thier disrutive politics he said that the party  seems to have the clear policy of hampering any Government that is not their own.
Jaitley while speaking to the mediapersons have said that  BJP will hold 'Jan Sabha' in the 44 Lok Sabha constituencies of Congress MPs and also 9 constituencies of Left Parties.
Speaking on the GST bill stuck in the Rajya Sabha the minister said, " We are determined to try and roll out GST from April next year".
"Opposition's aim was to delay GST. Cant tell you our strategy, but we are determined it happens by April 1st next year," Jaitely added.Jaitley also expressed his disappointment over the Monsoon session  as it witnessed many lows.
Taking a dig at Congress President Sonia Gandhi, Jaitley Said "Supreme leader of a major party party entered the well" and Rahul Gandhi cannot differentiate between Parliament speech and slogans.
"When one becomes a senior, mature statements are required. But the more he (Rahul Gandhi) grows, the more he immatures", Jaitley added.