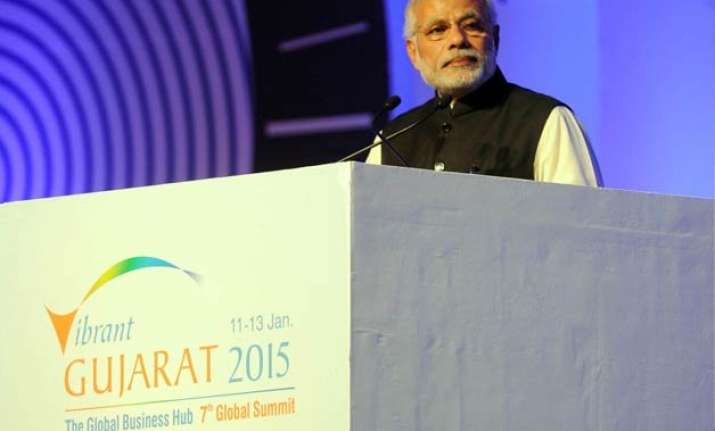 Gandhinagar: Lauding Prime Minister Narendra Modi's leadership and vision, global leaders ranging from UN Secratary General to World Bank chief on Sunday described him as the "driving force" of India's growth engine during the inauguration of the 7th Vibrant Gujarat Summit here.
UN Secretary General, who started his speech in Modi's mother tongue Gujarati, appreciated his initiatives to increase the use of renewable energy sources (wind and solar) and to build new smart cities in the country.
"I am happy that Prime Minister Modi has already set the target for solar and wind energy for India and I also commend his initiative to build smart cities," he said.
World Bank Chairman Jim Yong Kim said that Modi and his government are quickly putting in place the building blocks for even more rapid growth, streamlining the national regulatory structure, using public funds more efficiently and promoting social inclusion.
British Minister of State for Trade and Investment Lord Livingston said, "We are excited with the PM Modi's vision of smart cities."
Australia's Trade and Investment Minister Andrew Robb and Canada's Citizenship and Immigration Minister, Chris Alexander said they consider Gujarat as the "growth engine" of India and Modi's vision as "driving force" behind it.
Japanese auto giant Suzuki Corp's chairman Osamu Suzuki said Gujarat is superior in terms of infrastructure and administration.
"India is becoming consolidated into one economic identity under the able leadership of Prime Minister Narendra Modi," he said.
"Gujarat definitely supportive in administration and policies. I urge each and every investor to follow our path and invest in Gujarat, just as we did," Suzuki said.